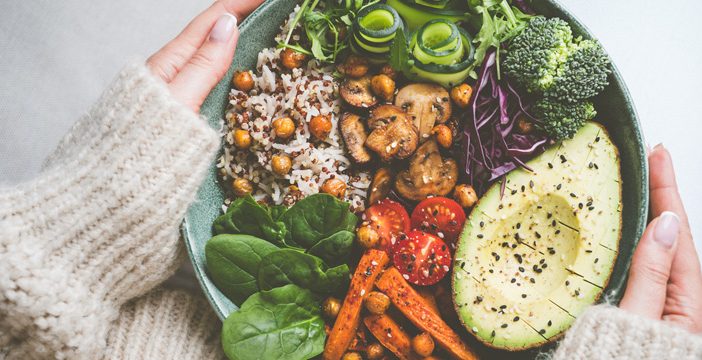 We know that healthy eating plays a key role in helping us manage diabetes and prediabetes. But research is showing that eating a diet particularly high in plant-based foods can be even more beneficial compared to other meal plans. Let's find out how plant-based foods and better diabetes management are linked, as well as ways to get more plants into your own diabetes diet.
What are plant-based foods?
Plant-based foods are derived primarily from plants, rather than meat. Some key options in a plant-based diet include:
Fruits and vegetables
Legumes (peas, lentils and beans)
Grains
Nuts
Seeds
What are the benefits of a plant-based diet?
Some research has shown that there is a significant decrease in diabetes risk in populations who consume a mostly plant-based (vegetarian) and vegan diet. There is also evidence that plant-based diets—particularly vegan ones—can be effective in managing type 2 diabetes because of improvements in glycemic control, cardiovascular risk factors and body weight. Plant proteins also lower blood pressure more than meat proteins do. In fact, eliminating meat products altogether has been linked to lower rates of depression and improved mood overall too.
Generally, plant-based foods are also packed with antioxidants which can help improve insulin sensitivity. Some plant-based foods (e.g., oats, asparagus, garlic and onions) are also good sources of prebiotics which are good for the gut.
Even diets that emphasize a higher consumption of fruits and vegetables (e.g., Mediterranean and DASH have been linked to better diabetes prevention and management, so it pays to increase your plant-based meal options.
What does Canada's Food Guide say about plant-based foods?
According to the latest recommendations from Canada's Food Guide, plant-based foods get the green light for substantial daily intake. Ideally, half of our dinner plates should be composed of fruits and vegetables and the remaining half should be split between whole grain and protein-based foods.
Is a plant-based diet the same as a vegan diet?
Eating a vegan diet means you are consuming only plant-based foods with zero animal products. That means you will need to avoid anything derived from animals, including eggs, milk, butter and cheese. A plant-based diet is comprised of mainly plant foods but may still include some animal-derived products. The good news is that there are a lot of innovative plant-based substitutes for many of these foods now. Some good vegan protein sources include beans, nuts, tofu and seeds.
Here's a 7-day diabetes-friendly vegan meal plan
How do plant-based foods fit into a diabetes diet?
Start by focusing on filling your plate with non-starchy vegetables and plant-based proteins, such as beans and tofu. Make sure to add some healthy fats too, such as olive oil, avocado, seeds and nuts. Introduce some new vegetable sides and salads to mix things up.
Remember that pairing carbs with protein and fibre even in a plant-based diet will help slow digestion and avoid spikes in blood sugar.
Some great low-carb substitutes for rice or pasta include cauliflower rice and zucchini spaghetti. As for snacks, try some high-protein options such as hummus, chia pudding or nuts.
Be sure to speak to your healthcare provider before starting a plant-based diet to determine if you need add any vitamins or supplements to fill nutritional gaps, especially as you get used to this new way of eating. You may also need to adjust insulin doses or other medications to keep your blood sugar levels on track.
If you're not ready to take the full plunge just yet, consider increasing your intake of plant-based foods every week, while limiting animal products.
Are there any concerns in following a plant-based diet?
Like all new regimes, it may take your body a bit of time to adjust to a plant-based diet. Don't be discouraged if you're feeling out of sorts initially or craving non-plant-based foods. As with any meal plan, you still need to balance your carbs, protein, fat and fibre—and you still need to watch your blood sugar levels.
Introduce new foods slowly and in moderation, especially as you determine how they affect your blood sugar levels.
Not all plant-based foods are created equal either. Be sure to read the labels on processed foods for added animal products, or sweeteners that may spike your blood sugar. The real benefits from plant-based foods come from those that are minimally processed (e.g., whole grains, nuts, seeds, fruits and vegetables).
There is no disputing that eating more plant-based foods is good for your health, especially if you have prediabetes or diabetes. Just remember to speak to your healthcare provider before starting a plant-based diet to ensure you are getting all the nutrients needed. Bon appétit!