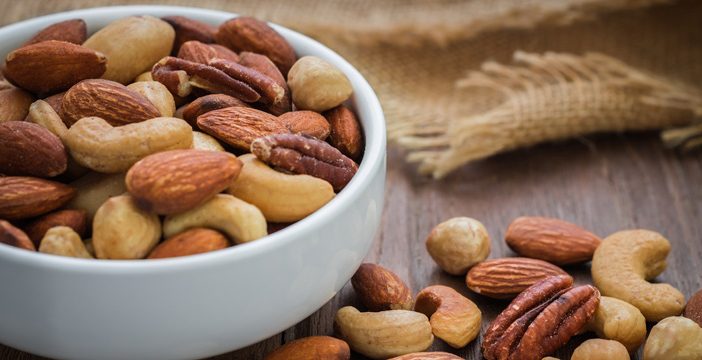 It can be difficult for people with diabetes to find a snack that won't raise blood sugar, is convenient to carry and is good for you. Nuts have all of these benefits! Diabetes Canada's clinical practice guidelines suggest that adding 2 ounces of mixed unsalted raw or dry roasted nuts daily as a replacement for foods that contain carbohydrate results in lower A1C and improved cholesterol levels. Read on to learn more about the health and nutritional benefits of nuts.
Nuts and heart health
A variety of nuts – such as almonds, walnuts, pecans and peanuts – have been recognized as part of a heart-healthy diet for many years. This is because they contain healthy monounsaturated fats and alpha-linolenic acid, a plant-based source of healthy omega-3 fats. Nuts are an important part of both the Mediterranean diet (known for improving blood sugar control and reducing the risk of heart disease) and the DASH diet (known for improving blood pressure levels).
One of the most prominent characteristics of nuts for people with diabetes is their effect on cholesterol levels. Almonds, walnuts, pecans, hazelnuts and pistachios can all reduce low-density lipoprotein cholesterol levels (the "bad" cholesterol) by increasing levels of high-density-lipoprotein cholesterol  (the "good" cholesterol).
Almonds and walnuts also contain vitamin E, which helps prevent the development of plaque that can narrow and clog your arteries. Plaque development in your arteries can lead to chest pain, coronary artery disease, heart attack or stroke. Most nuts also contain omega-3 fatty acids, which may help reduce the risk of irregular heart rhythms.
Nuts and blood sugar
Consuming nuts can help people with diabetes lower their A1C and blood sugar levels. A study at St. Michael's Hospital in Toronto found that people who ate 2 servings of nuts per day (1/2 cup total) – including almonds, cashews, chestnuts, hazelnuts and pecans – had improved A1C and blood sugar levels.
Another study conducted at Louisiana State University found that people who regularly eat tree nuts — including almonds, macadamias, pistachios, walnuts, and cashews — have a lower risk of type 2 diabetes and heart disease.
Nuts and fibre
The fibre, protein and fat found in nuts help to provide a feeling of fullness, making them a good choice for taking the edge off your appetite and reducing the desire to eat unhealthy foods between meals. However, portion size is important as they are nutritionally dense in calories. Instead of eating them directly from a large bag or bowl, it's best to measure out about 2 ounces of nuts, and place them in a small container that you can carry with you wherever you go. Or place them next to you while working or watching TV.
Enjoying nuts as a part of your meal plan
Nuts aren't only a snack food. Having them as part of a meal also has advantages for people with diabetes. The fibre, fat and protein in nuts weaken the blood sugar effect of the carbohydrate foods in the same meal. In one study, when almonds were eaten along with bread, the resulting blood sugar was less than when bread was eaten alone. For nuts to have this effect, they should be combined with the carbohydrate portion of the meal. Try adding peanuts to a stir-fry or sprinkle some slivered almonds into a salad.
The bottom line
Eating nuts as a source of unsaturated fat intake to replace carbohydrates can improve blood sugar and cholesterol levels, while providing a tasty satisfying alternative to less healthy snack foods.