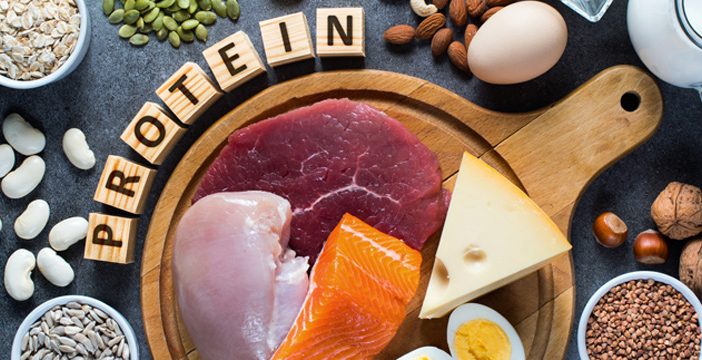 Eating foods that contain protein is a key part of a healthy diet. Protein is an essential nutrient that helps to build, maintain and repair your tissues and organs. When you have diabetes, it is important to choose carefully the types of proteins you eat as some are better for you than others. Read on to learn about the top 10 protein-rich animal- and plant-based foods for people with diabetes.
3. Poultry with skin removed (dark meat is a little higher in fat than white meat, but is still high in protein)
4. Eggs (also high in vitamins A, B, E and K, as well as folic acid)
5. Cheeses that have lower fat content (for example, parmesan or cheddar)
6. Low-fat yogurt (packed with probiotics too for your gut)
7. Low-fat milk
8. Lean beef or pork
9. Lamb (chop, leg or roast)
10. Game (for example, rabbit, venison or goose without the skin)
Top 10 protein-rich plant-based foods
Many plant-based foods provide excellent sources of protein. Consider incorporating these top 10 protein-rich plant-based foods into your weekly nutrition plan:
1. Tofu and edamame
2. Lentils
3. Beans (for example, kidney, lima, black and fava)
4. Seeds (for example, flax, chia, pumpkin)
5. Oats (steel-cut oats are best)
6. Peas (for example, black-eyed or split peas)
7. Chickpeas
8. Quinoa
9. Almonds (walnuts and pistachios are good options too)
10. Certain fruits and vegetables (for example, broccoli, asparagus, artichoke, berries and cantaloupe)
How much protein should I eat?
Typically, people with diabetes don't need to consume any more or less protein than those who don't have the condition, unless they have complications such as kidney disease.
Diabetes Canada recommendations
The Diabetes Canada clinical practice guidelines recommend that 15% to 20% of a person's daily calorie intake should come from protein. This means you should consume about 0.8 grams of protein per kilogram of body weight; for example, a person who weighs 150 pounds (68 kg) would need about 54 grams of protein a day.
Canada's Food Guide recommendations
According to Canada's Food Guide, people should choose proteins from plant sources more often. That's because these proteins often provide more fibre and less saturated fat than other animal proteins, which are better for your heart health.
There is some evidence that replacing animal protein with plant protein may help control your blood sugar. In addition, several studies have linked diets high in red meat proteins to a greater risk of type 2 diabetes, compared to those that are high in plant-based proteins.
Tips for incorporating protein into your daily diet
Some easy ways to get a bigger protein hit into your day include:
Make your own trail mix using whole grain cereal, nuts and seeds
Add soft tofu to a soup to make it creamier
Add a bean salad or bowl of vegetarian chili to your dinner
Snack on hummus with fresh vegetables
Put some peanut butter on your celery sticks
Remember that including some protein in your meals every day is a good move towards maintaining a healthy diet. Pay attention to your protein sources to ensure that you reap all of the benefits that protein has to offer.