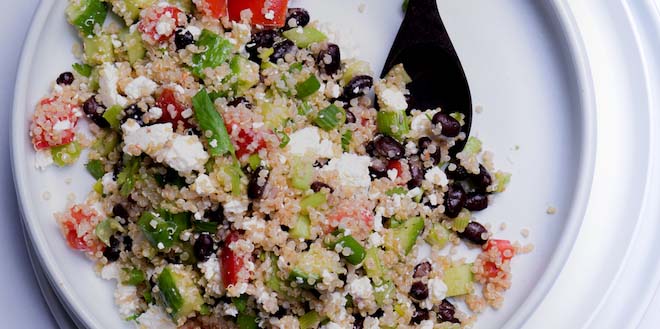 Ingredients
1 cup quinoa
1½ cup water
1 19-ounce can black beans , drained (1 ½ cups)
4 green onions, chopped in rounds
2 cups small diced celery
1 large tomato (or 2 small ones), diced; or 12 cherry tomatoes, quartered
¼ cup diced cucumber (about 2 small cucumbers or ¼ English cucumber)
½ cup chopped cilantro or Italian parsley
6oz feta cheese (optional)
Dressing
¼ cup lemon or lime juice
2 tbsp olive oil
¼ tsp cumin
½ tsp salt
Freshly ground pepper
Directions
Rinse quinoa in a strainer, put into a small saucepan with the water, and bring to a boil. Reduce the heat and simmer, covered, for 15 minutes. Fluff with a fork and let cool with lid off.
In the meantime, mix the dressing ingredients together in a small bowl or measuring cup.
In a large bowl, toss together the black beans, green onion, celery, tomato, cucumber, cilantro or parsley and most of the cheese, leaving some for sprinkling on the top.
Add the cooked quinoa and dressing, and toss gently.
Serves 8, Each serving is 1 cup