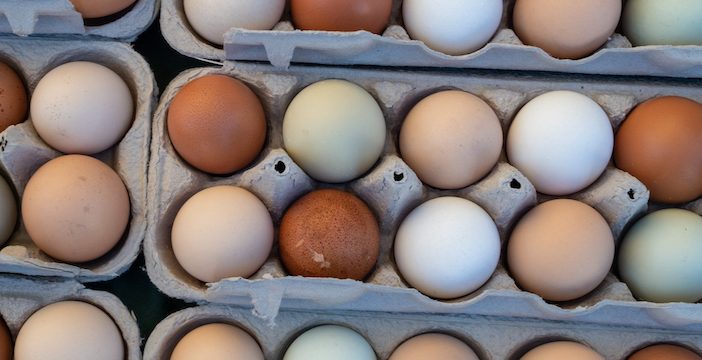 Science has gone back and forth on the issue of eggs for a few decades; one minute, we're told that eggs are not good for us, the next it seems the opposite. So, what does the current scientific evidence say about eggs?
Does eating eggs increase the risk of type 2 diabetes?
Contrary to research done almost 10 years ago, there is currently no evidence to suggest that daily egg consumption is associated with an increased risk of type 2 diabetes. In studies that followed participants for up to seven years, researchers found no association between egg consumption and the risk of developing type 2 diabetes.
What are the health benefits of eggs?
Eggs are a very versatile food, and they're also a good source of protein. The protein in eggs helps to slow digestion, helping to keep blood sugar levels steady; it can also keep you feeling satisfied after a meal. Most eggs contain about seven grams of protein and almost no carbohydrate, so they won't raise your blood sugar. In addition to protein, eggs are also an excellent source of potassium, which is important for healthy nerves and muscles. Science is telling us today that we should eat fewer processed foods (for example, luncheon meats), and eggs are a natural and healthy alternative to highly processed foods.
Do I need to be concerned about cholesterol if I eat eggs?
The cholesterol that we get from foods we eat doesn't appear to play much of a role in our cholesterol levels. This is very different from what we believed years ago, when eggs were considered to be too high in cholesterol to be part of a healthy diet. Until very recently, people with diabetes were advised to eat no more than two eggs per week, but a closer look at the research shows no adverse effects of high vs. low egg consumption among healthy adults and those with type 2 diabetes. What we know today is that foods high in trans fats and saturated fats have a greater effect on your cholesterol levels, so it's what you eat along with your eggs that you should be more concerned about. Your overall diet, physical activity and genetics play a greater role in your risk of heart disease and diabetes more than a single food, such as eggs.
How many eggs should I eat?
If you have diabetes and heart disease, or are at a greater risk for heart disease, limiting egg yolks to two to four per week is advised (egg whites don't have fat or cholesterol and can be eaten without worry). If you have diabetes but are not at a higher risk of heart disease (i.e. no family history, your cholesterol levels are in the target range) researchers tell us that you can enjoy one to two eggs per day without worry, as part of a healthy diet.
What about omega-3 eggs?
Omega-3s fatty acids play a role in building healthy brain cells and protecting you against heart disease and stroke. Omega-3 eggs come from chickens that are fed flax seeds, resulting in eggs with a higher omega-3 content. However, the amount of omega-3 in these eggs is minimal, compared with good sources of omega-3 fatty acids, such as salmon, walnuts or ground flax seeds. The extra cost of omega-3 eggs may not be worth the expense.
Does the preparation method of eggs matter?
Eggs are a delicious and versatile food that can be cooked in many different ways and are easy to combine with other healthy foods. You can boil, poach, fry, bake, microwave or scramble an egg. All of these cooking methods are healthy. If you are concerned about calories, choose poached or boiled eggs, as they don't add any extra calories from the fat used to cook them. To make your eggs as healthy as possible, combine them with vegetables (for example, spinach or broccoli); if you choose to cook them with a bit of fat, choose a healthy oil like canola oil.
Overall, eggs are a healthy, delicious, versatile and rather inexpensive source of protein, and they don't just have to be for breakfast! Try this recipe for eggs and avocado toast or this delicious egg white frittata!