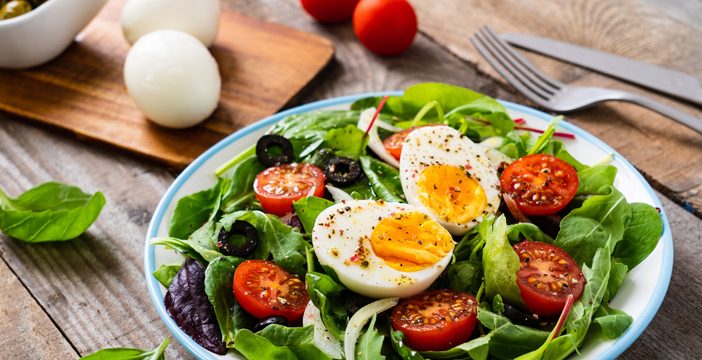 Eggs are a very healthy option for people with diabetes. They're low in calories (one egg contains only 80 calories). Eggs are also low in fat and high in protein and full of essential vitamins and nutrients. Check out these 5 great reasons to include eggs in your diabetes diet!
1. Eggs are high in protein
One egg contains 6.5 grams of high-quality protein. Eating foods that are high in protein keep you feeling fuller for a longer period of time. This can have 2 related effects: feeling fuller will make you less inclined to consume other foods and can also promote weight loss.
In fact, research has shown that eating eggs for breakfast may lead to weight loss. In one study, 30 overweight or obese women consumed a breakfast of either eggs or bagels. Both breakfasts had the same amount of calories. The women in the egg group felt fuller and ate fewer calories for the rest of the day.
In another study, people who ate eggs and toast for breakfast reported significantly less hunger than those who ate bran cereal; the study researchers suggested that the egg-eating group's higher protein intake (25 grams vs. 11 grams) promoted greater fullness.
2. Eggs are full of vitamins and minerals
Eggs contain plenty of essential nutrients:
Choline is important for your brain and nervous system functions. It helps regulate memory, mood and muscle control.
Omega-3 fatty acids are important components of the membranes that surround and protect each cell in the body. They also give your body energy.
Vitamin A helps protect the surface of the eye (called the cornea), so it is essential for good vision. It also helps the heart, lungs, kidneys, and other organs work properly.
Vitamin B2 (riboflavin) and Vitamin B5 are important for the growth, development, and function of the cells in your body. They also help turn the food you eat into energy.
Vitamin B12 helps keep your body's blood and nerve cells healthy and helps make DNA, the genetic material in all of your cells. Vitamin B12 also helps prevent anemia, a blood condition that makes people tired and weak.
Vitamin D helps your body absorb calcium, one of the main building blocks for strong bones. This helps protect you from developing osteoporosis, a disease that thins and weakens the bones.
Vitamin E acts as an antioxidant, helping to protect cells from the damage caused by compounds called "free radicals." Free radicals are formed when our bodies convert the food we eat into energy. The body also needs vitamin E to boost its immune system so that it can fight off invading bacteria and viruses.
Vitamin K helps the body make various proteins that are needed for blood clotting and building strong bones.
Zinc helps the body's immune system fight off bacteria and viruses. The body also needs zinc to make proteins and DNA, the genetic material in all cells.
3. Egg consumption increases high-density lipoprotein cholesterol
High-density lipoprotein (HDL) cholesterol is known as the 'good' cholesterol, because higher levels can reduce your risk of heart disease. Egg consumption has been associated with increased HDL cholesterol levels. A study of adults who ate 2 boiled eggs daily showed that their HDL levels increased by 10% after 7 weeks.
4. Eggs are low in fat
Egg yolks contain some fat, but the white hardly contains any. One whole egg contains around 4.6 grams of fat. However, the saturated fat content is only 1.5 grams. Saturated fats can raise your cholesterol levels, which can increase your risk of heart disease.
5. Eggs are versatile
There are lots of ways you can prepare eggs, for any meal. You can enjoy them poached, baked, fried (in a non-stick pan), boiled or scrambled. You can even microwave eggs (although remove the shell first!) for an even quicker meal option. Omelets and frittatas loaded with fresh veggies are healthy options for breakfast, lunch or dinner.
Check out these quick and easy egg recipes:
Eggs are a healthy and delicious addition to your diabetes meal plan. They're low in calories and fat, high in protein and chock full of many important vitamins and nutrients.