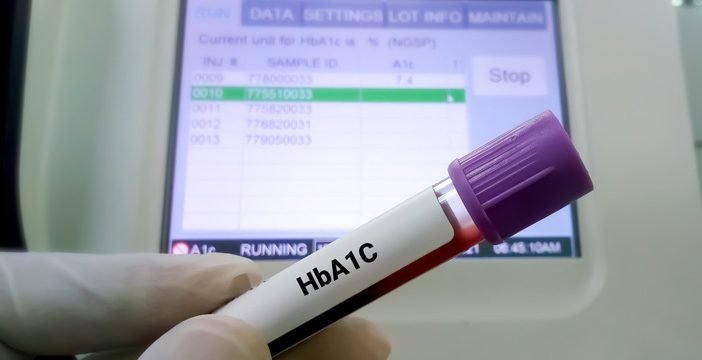 The terms A1C and blood sugar are frequently used when talking about diabetes. But what is the difference between A1C and blood sugar, and how do they relate? Let's find out.
Why are they different?
Hemoglobin A1C (also called HbA1C—or just plain A1C) is the standard for measuring blood sugar levels over an extended time when you have diabetes. It's also used to diagnose diabetes initially. So, while it is important to measure your blood sugar (i.e., blood glucose) regularly to see how much sugar is in your blood at any given time, measuring your A1C gives you a more definitive look at whether your blood sugar levels have been on track over the last two to three months.
What should my A1C level be?
An A1C test is typically done via blood work in a lab several times a year and is measured in percentages. A healthy target for A1C in most people with diabetes is less than 7%. (These targets will differ for older adults and those under 12, as well as during pregnancy.) Speak with your diabetes healthcare provider to confirm the optimal A1C level for you.
What should my blood sugar levels be?
Your blood sugar targets are measured in mmol/L and will vary throughout the day.
Generally, before meals your suggested blood sugar range should be: 4.0 to 7.0 mmol/L.
Two hours after the start of eating: 5 to 10 mmol/L (or 5.0 to 8.0 if your A1C targets aren't being met).
Blood sugar targets also vary based on factors such as age or other health conditions. These targets don't apply to pregnant women or children under 12, for example. That's why it's important to follow the blood sugar targets established for you by your healthcare provider.
Is there a correlation between A1C and blood sugar levels?
Consistently high blood sugar levels will raise your A1C, while low blood sugar levels will do the opposite. The fact that A1C and blood sugar levels aren't measured in the same way can be confusing.
Following is a chart to help you better understand the correlation between the two.
A1C to Blood Glucose Conversion Chart
| A1C (%) | Average Blood Sugar (mmol/L) |
| --- | --- |
| 6.0 | 6.9 |
| 6.5 | 7.7 |
| 7.0 | 8.5 |
| 8.0 | 10.1 |
| 8.5 | 10.9 |
| 9.0 | 11.7 |
| 9.5 | 12.5 |
| 10.0 | 13.3 |
How often should A1C and blood sugar levels be measured?
Keeping blood sugar levels on target is extremely important to prevent blood sugar drops and spikes that can lead to a variety of complications. For example, when your blood sugar drops too low, this can lead to hypoglycemia and when it gets too high it can lead to hyperglycemia and other complications.
Experts recommend checking your A1C every three months when your blood sugar levels are not on target or when you are incorporating any new changes to diabetes management (i.e., new medications). Once you are on target, A1C testing can happen every six months.
Checking your blood sugar at home using a blood glucose monitor is a good way to ensure you are on track. The frequency of how often you should test depends on many factors such as:
the type of diabetes you have
the type of medication you are using (e.g. those on insulin or other medications that can cause low blood sugar should test more frequently)
if you are pregnant
newly diagnosed, or
after medication changes.
If you have type 1 diabetes, your diabetes healthcare team may recommend testing as often as 4 to 10 times a day. For those living with type 2 diabetes the frequency will depend on your treatment plan but can range from testing a few times a week to several times a day. Your healthcare team will advise you on the most suitable testing frequency based on your individual situation.
Checking A1C through your routine medical appointments and monitoring blood sugar levels in between these appointments are both important ways to assess how your diabetes management plan is working for you. Remember that keeping your blood sugar and A1C as close to target as possible will help delay or prevent complications associated with diabetes.