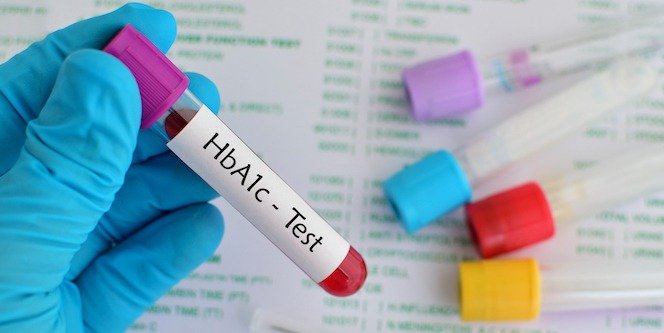 Whether you are newly diagnosed with diabetes, or have had diabetes for a while, you have probably heard your doctor refer to your "A1C". This article will provide you with everything you need to know about A1C and how it relates to your diabetes management.
What is an A1C?
An 'A1C' is the result of a blood test called the 'A1C test', which measures the amount of glucose in the blood. A1C may also be referred to as HbA1C, hemoglobin A1C, or glycated hemoglobin. Your A1C reflects your average blood sugar levels over the past few months, and helps doctors diagnose diabetes, and better understand how well your diabetes is being controlled.
What is hemoglobin?
Hemoglobin is a protein found in red blood cells, which actually gives blood its red colour! Hemoglobin is responsible for carrying oxygen throughout the body. When blood sugar is too high, extra glucose enters the red blood cells and joins with molecules of hemoglobin. In medical terms, the hemoglobin gets 'glycated'. An A1C test reveals the percentage of glycated hemoglobin in the blood. Since red blood cells live for about 3 months, the A1c test shows the average level of glucose in your blood for the past 3 months.
What do the numbers mean?
According to Diabetes Canada, you are diagnosed with diabetes if you have an A1C of 6.5% or greater.
| | |
| --- | --- |
| A1C | Diagnosis |
| Below 6.0% | Normal |
| 6.0-6.4 % | Prediabetes |
| 6.5% or greater | Diabetes |
Once you have diabetes, the A1C target for most people is 7.0% or lower. Some people may have a different A1C target recommended by their diabetes healthcare professional. Below is a table showing different A1C targets based on specific patient characteristics, as discussed in the Diabetes Canada guidelines.
| | |
| --- | --- |
| A1C Target | Recommended for: |
| 6.5% or lower | Adults with type 2 diabetes to reduce the risk of chronic kidney disease and retinopathy, if at low risk of hypoglycemia |
| 7.0% or lower | Most adults with type 1 and type 2 diabetes |
| 7.1-8.0% | Consider in patients who are functionally dependent |
| 7.1-8.5% | Consider in patients with limited life expectancy, recurrent severe hypoglycemia and/or unable to detect hypoglycemia, frail elderly and/or with dementia |
How is A1C different than a blood glucose test?
As discussed above, A1C is a measure of an individual's average blood glucose over an extended period of time. In contrast, blood glucose testing is the measure of an individual's blood glucose at one point in time. Despite their differences, both an A1C test and blood glucose testing are a reflection of how well an individual's diabetes is being managed. Although A1C and blood glucose are different, the table below shows how your A1C correlates with an estimated average blood glucose.
| | |
| --- | --- |
| A1C values (%) | Estimated average glucose (mmol/L) |
| 5.5-6.5 | 6.2-7.7 |
| 6.5-6.9 | 7.8-8.5 |
| 7.0-7.4 | 8.6-9.3 |
| 7.5-7.9 | 9.4-10.1 |
| 8.0-8.5 | 10.2-10.9 |
Your doctor or other diabetes healthcare team member will order a blood glucose test before you are diagnosed with diabetes. After your diagnosis, your doctor will assess your blood glucose by ordering A1C tests. You will be responsible for taking your blood glucose levels according to the schedule recommended by your diabetes healthcare team.
How often should an A1C test be done?
It is recommended that this test be repeated every 3 months so your doctors can adjust your diabetes management based on the results of the test.