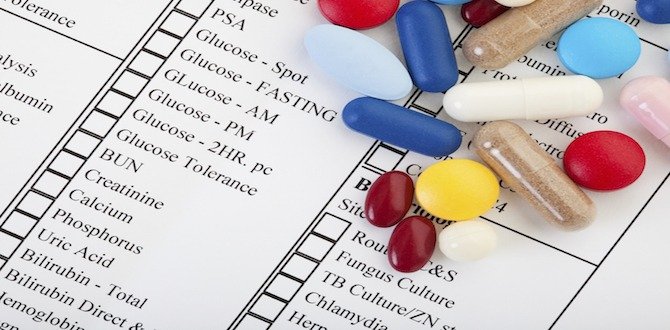 Many people with diabetes, in addition to taking medications for their diabetes, also take prescription medications for their other health problems such as hypertension, high cholesterol or hypothyroidism. They may be asked to have blood tests done either periodically or at a regular interval.  The following is a discussion on some common blood tests for people with diabetes and the reasons for doing them.
To assess blood glucose control or screen for diabetes complications
A1C (haemoglobin A1C) to assess blood glucose control by measuring the level of glucose in the blood for the past 3 months. For more information on this test please review the blog on A1C.
Albumin-to-creatinine ratio (ACR) to detect protein in urine as a screening test for kidney disease.  This urine test can be any time of the day without preparation.
To assess kidney function so the right dose of medications can be prescribed
Serum creatinine (blood test) can be done at any time of the day without preparation.
To assess liver functions to monitor the side effects of medications on this organ
Liver function tests: alanine aminotransferase (ALT)
      aspartate aminotransferase (AST)
      alkaline phosphatase  
These tests are commonly ordered for people that are taking cholesterol-lowering medications (statins) or diabetes medications such as pioglitazone (Actos®) or rosglitazone (Advandia®).
Tests may be ordered at the time of starting the medication and repeated after a month to monitor change.
Liver function tests can be done at any time of the day without preparation.
To assess the effect of cholesterol lowering medication
Lipid panel that includes Total Cholesterol, High Density Lipoprotein (HDL), Low Density Lipoprotein (LDL), Triglyceride (TG).
The blood test requires overnight fasting for at least 8 hours.
To detect abnormalities in people with low energy levels
Hematology tests to rule out anemia that include: hemoglobin, hematocrit, vitamin B 12 level and other related tests.
Thyroid function test to rule out hypothyroidism or an inadequate dose of thyroid supplement: Thyroid Stimulation Hormone (TSH), T4.
Blood tests can be done at any time of day without preparation.

            Electrolytes such as potassium and sodium are frequently monitored in people taking these medications especially in those with kidney disease and during acute illness.
               Potassium (K+): when starting ACE or ARB medication and repeat at regular intervals to monitor change. The frequency of monitoring will vary depending on the need of the individual.
               Sodium (Na+): in people taking diuretics and with symptoms of orthostatic hypotension (feeling dizzy/lightheaded when you stand up quickly).
The blood test can be done any time of the day without preparation.
If you or the person you support with diabetes is asked to have blood tests done, it is important to understand why they are ordered, their results and the follow up plan if they are out of target. Partnering with the diabetes care team and primary care physician will ensure you get the care required.  You may also want to keep track of your test results using the Diabetes Self-Management Tools on this website.