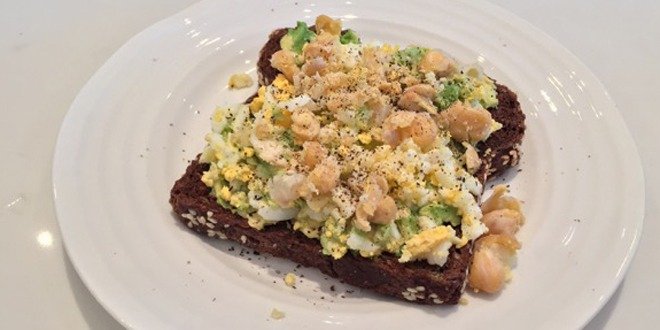 Chickpeas are loaded with fibre and are a great source of plant protein. They have been shown to help lower bad LDL cholesterol as well as balance out blood sugar. The addition of the egg and extra protein and the avocado is a great source of healthy fat.
INGREDIENTS
4 slices of whole grain bread
½ cup canned chickpeas, drained and rinsed
2 hard boiled eggs, peeled
Juice squeezed from ½ lemon
1 ripe avocado
Pinch cumin
1 tsp. hot sauce or pinch cayenne, optional
Handful of fresh flat leaf parsley leaved, chopped, optional
⅛ tsp. salt
pepper to taste
DIRECTIONS
Cut around the avocado lengthwise around the pit, separate the avocado into halves and scoop out the avocado flesh.
Place chickpeas on a plate and mash using the back of the fork, do the same with the egg and avocado, gently stir the egg and avocado into the chickpeas (using the fork).
Add all the flavorings; the lemon, cumin, hot sauce/cayenne, salt and pepper.
Lightly toast the whole grain bread slices. Spread mixture evenly over the four slices of bread.