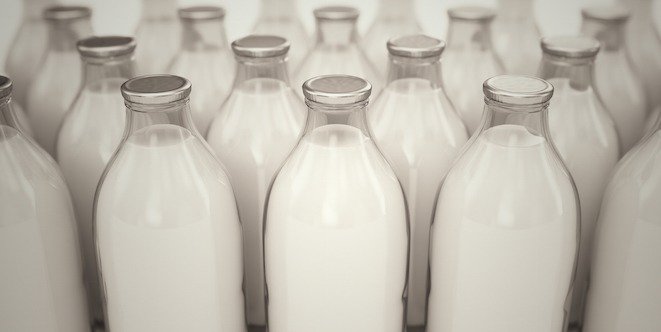 Our series on navigating the grocery store takes us to the milk and milk products aisle, another important food group for healthy eating. Milk products contain protein and calcium, as well as other essential nutrients such as potassium and vitamin D. Despite these health benefits, milk products can be high in fat, especially saturated fat (the type that can contribute to heart disease). So how can you ensure that you take advantage of all those great nutrients that milk products have to offer without consuming too much unhealthy fat? Choosing low-fat options is the key. Fortunately, there are many available options that provide nutritional benefits without excess fat and calories. Knowing what to look for and what to avoid can help you make the best choices.
Milk
Look for low-fat, fat-free or reduced-fat choices. Choose skim milk, 1% or 2% milk over whole or "regular" milk. Whole milk contains 3.25% milk fat; although that doesn't sound like a lot, one 250 mL glass of regular whole milk equals 25% of your daily saturated fat allowance. If skim milk doesn't appeal to you, choose the lowest-fat milk that you will still enjoy; even 2% milk is a better choice than regular milk. Chocolate milk offers the same nutritional benefits as white milk but has added sugar, so enjoy it as an occasional treat. Lactose-intolerant individuals should opt for lactose-free milk. For people who don't tolerate any type of milk, soy beverages offer a healthy alternative; just be sure to choose a soy beverage that is fortified with calcium and vitamin D.
Yogurt
Choose low-fat or fat-free varieties. Plain, fat-free yogurt offers the most nutrition with the fewest amounts of fat and calories. If fat-free doesn't appeal to you, then choose yogurt with no more than 2% milk fat (milk fat is labelled "M.F." on all milk and milk products). Checking the food label will help you compare products and choose the healthier variety lowest in saturated fat, calories and sugar. Top choices for yogurt include those with no added sugar. Although yogurt naturally contains sugar, some manufacturers add even more. Some yogurts are sweetened with artificial sweeteners instead, which are fine to eat in moderation if you prefer a sweeter flavour. Also, check the label to ensure that the yogurt you buy has at least 15% of the daily value for calcium. 
Cheese
Look for reduced-fat or lower-fat cheeses with less than 20% milk fat  or compare nutrition facts tables to choose the cheese with the lowest amount of fat that you will still enjoy. Some popular low-fat cheeses include low-fat ricotta and part-skim mozzarella. Cream cheese is high in fat and calories and lacks the nutrition benefits of other cheese, since it is mostly made from cream and contains very little calcium or other nutrients. Avoid processed cheese products (such as cheese slices) as much as possible, since they provide less protein and calcium than other cheeses, while packing in a lot of sodium.
Milk products are an important part of healthy eating for anyone; however, for people with diabetes, choosing lower-fat, healthier alternatives can go a long way toward providing important nutrients without contributing to heart disease and excess weight gain.
The next time you're navigating the grocery store for milk and milk products, use the information on the nutrition facts and the tips above to compare milk products and make the healthiest choice for you. 
To learn about other healthier choices while food shopping, check out Navigating the grocery store expert blogs by Dietitian and Certified Diabetes Educator, Joanne Lewis.