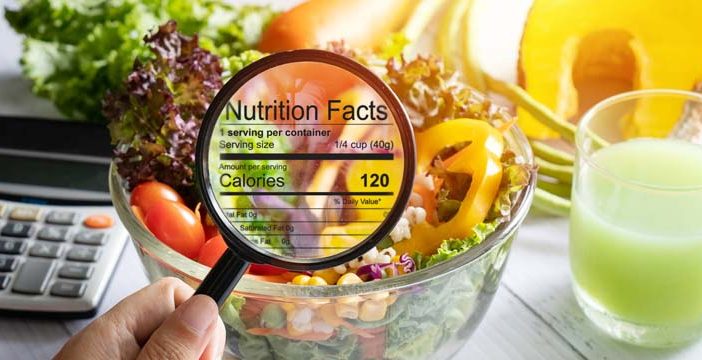 In Canada, all packaged foods must contain a Nutrition Facts table. You've probably seen them on your food purchases, but have you ever thought about the wealth of information they contain?
The Nutrition Facts table gives you information about the amount of basic or essential nutrients and calories in a certain amount of any particular packaged food. You can use this information along with the % Daily Value to compare and choose food products. Reading the ingredient list can also help you make better food choices!
The Nutrition Facts table includes a specific serving size, as well as the number of calories for that amount of the food. It also includes the amount of each of the following vitamins and nutrients per that serving size:
Fat (both saturated and trans fat)
Cholesterol
Sodium
Carbohydrate
Fibre
Sugars
Protein
Vitamin A
Vitamin C
Calcium
Iron
You can use the Nutrition Facts table to:
Figure out the nutritional value of foods.
Compare the nutrition value between food products.
Identify foods suitable to special diets (for example, low-sodium or low-fat diets).
Find foods that will help you to increase or decrease your intake of a particular nutrient (for example, if you want to increase the amount of fibre, or decrease the amount saturated fat in your diet).
5 easy steps to reading a Nutrition Facts Table
1.Look at the serving size. Compare the serving size on the package to the amount that you plan to eat. If you eat the serving size shown on the Nutrition Facts table, you will get the amount of calories and nutrients that are listed. (Of course, if you eat more, then your calories will go up). Get to know the nutrition information for the amount of the food you usually eat. You may have to brush up on your math skills!
2. Look at the calories per serving. Calories tell you how much energy you get from one serving of a packaged food.
3. Look at the % Daily Value. This scale tells you if there is a little or a lot of a nutrient in the listed serving size of the food. Use this percentage to compare the nutrient content of different foods.
5% Daily Value or less is a little
15% Daily Value or more is a lot
4. Aim to choose foods that provide more of these nutrients: Fibre, vitamin A, vitamin C, iron, calcium
5. Look for foods that have less of these nutrients: Fat, saturated fat, trans fat, sodium, cholesterol, and added sugars.
Tips for particular ingredients
Fat: Choose foods with lower fat content. Choose foods with little or no saturated fat. Choose foods with no trans fat.
Sodium: The % Daily Value is based on the maximum intake of 2,300 mg per day. Aim for foods that are less than 5% the Daily Value of sodium. Foods with 15% (or more) Daily Value of sodium are considered high. Another tip is to try to avoid foods with 400 mg of sodium or more per serving.
Carbohydrate: The amount listed is for the indicated serving size. The total amount of carbohydrate in grams is listed first. This number is the total of all the starch, sugars and fibre in the product (starch is not listed separately). Fibre does not raise blood glucose and should be subtracted from the total carbohydrate (for example, 36 grams of carbohydrate minus 6 grams of fibre = 30 grams available carbohydrate).
Fibre: Choose foods high in fibre, and aim to consume 25 grams (or more) of fibre per day.
Sugars: In the list of ingredients, all sugar-based ingredients are grouped together in brackets after the word "sugars". They are listed in descending order by weight so you can quickly see the sources of sugar and how much has been added to the food compared to other ingredients. (Grouping of sugars-based ingredients is not required for products containing less than 0.5 grams of sugars per serving.)
It's worth taking the time to read the Nutrition Facts tables. Making healthy food choices can help ensure that you live healthily with diabetes for a long time!