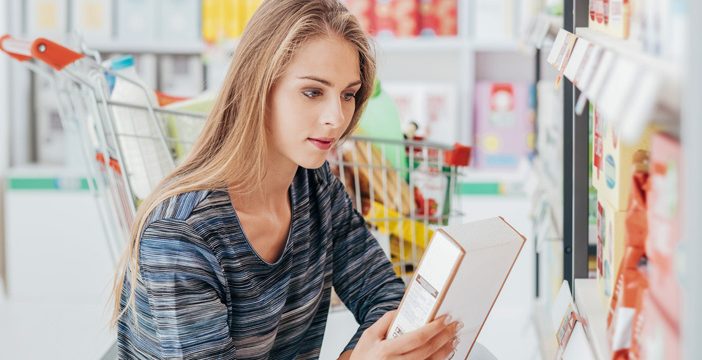 Canada's newest food label changes are expected to help us make even better choices when picking food items. Significant improvements to the nutrition facts table and list of ingredients on food labels make them easier to read and understand. In fact, as of December 15, 2022, the Canadian Food Inspection agency has required that all companies have updated their labels to comply with these new standards. Here are some of the key changes to look for.
What changes have been made to the nutrition facts table?
Serving size: Servings now more realistically reflect the amount that Canadians typically eat, and the labels use a bigger font so you can more easily find the size and calories per serving. With more consistent serving sizes, it will also be easier to compare similar foods. Service size changes also vary for single and multiple-serving pre-packaged foods:

Single-serving: On items containing up to 200% of the reference amount, the serving size will be the entire container (e.g., the reference amount for milk is 250 mL, but the serving size shown will be the entire carton of milk up to 500 mL)
Multiple-serving: serving sizes are based on the type of food:

Foods that can be measured (e.g., cup, teaspoon, tablespoon)
Foods that are divided or come in pieces (e.g., a fraction or number of pieces)
Amount of food typically eaten on one occasion (e.g., 2 slices of bread and its weight in grams)
Information on sugars: Along with revising the % daily value for sugars based on the latest science, any sugar-based ingredients are grouped together in brackets after the word "sugars" in descending order by weight. Here's more on how to understand the sugar content on food labels
Information on sweeteners: Sweeteners used in foods will still appear in the ingredient list, but not their amount in mg per serving. Certain high-intensity sweeteners will no longer appear on the front of the package either. These include:
neotame
sucralose
aspartame
acesulfame-potassium
Ingredient list: You'll find several changes on the ingredient list to make it easier to find, read and understand what's in the food you're eating. These include:

Putting all sugar-based ingredients together in brackets after "Sugars"
Making the text black on white or neutral font and using bullets or commas to separate ingredients
Using upper- and lower-case letters for the ingredients
Listing food colours by their common names (e.g., Allura red)
Creating minimum type height requirements (no more squinting needed!)
Here is more information on How to read nutrition facts labels
What about changes to the front-of-package nutrition label?
As of January 1, 2026, a new nutrition symbol (usually found in the upper half of most front-of-package labels), will help you to easily identify which foods should be eaten in moderation. A front-of-package food symbol will be required on all pre-packaged foods that are high in one or more of the following:
Sodium
Sugars
Saturated fat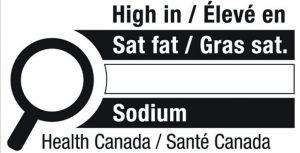 The foods exempt from displaying this symbol are:
Health beneficial foods such as fruits and vegetables
Certain high-calcium dairy products (i.e., plain milk, plain yogurt, cheese)
Raw, single-ingredient ground meats and poultry
Butter, sugar, salt and other foods used for the same purposes such as:

Honey
Maple syrup
Vegetable oils
Seasoning salt

Technical reasons:

Individually packaged food portions meant to be served to accompany snacks or meals (e.g., crackers with soup)
Milk and cream in refillable glass containers
Foods in very small packages
Raw, single-ingredient whole cuts of meat, poultry and fish that do not have a nutrition facts table
What does this all mean for someone living with diabetes?
We know that eating excessive amounts of sodium, sugars or saturated fats can increase our risk of obesity and chronic diseases, such as heart disease and diabetes. With a nutrition symbol on high-risk foods, as well as food labels that are easier to read and understand, we can make food choices that will help us manage diabetes better.
Additionally, these food label changes help keep companies more accountable in how they present nutrition facts. This is especially important for more vulnerable populations living with diabetes, such as children and teens who can be heavily influenced by advertising.