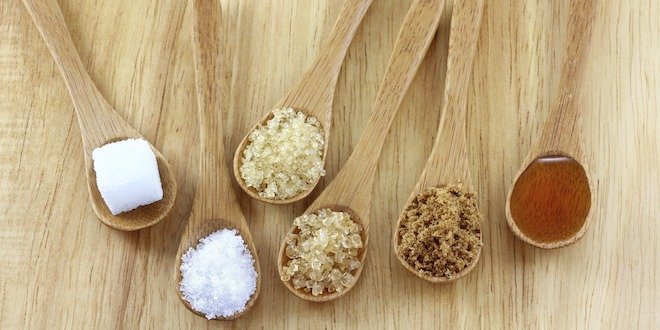 Avoiding sugar is the most common diet concern for people living with diabetes. It's usually the first piece of advice given to them when they are diagnosed. But let's face it, it's often these added sugars that make some foods taste so good!
The good news is that having diabetes doesn't mean that a person has to be so strict in avoiding sugar. In fact, sugars and sweetened foods can be eaten by those with diabetes as long as they are eaten in moderation. According to health experts, most people with diabetes can consume up to 10% of their daily calories as "added sugars" without causing harmful effects on their blood sugar. For an average person with diabetes who eats 1800 calories daily, that means they can enjoy up to 45 g or about 9 teaspoons of added sugar per day. It's always best to check with the diabetes dietitian about how to fit in sweetened foods.
Contrary to popular myth, there is no advantage to people with diabetes in choosing one type of sugar over another. One common belief is that brown sugar is more nutritious than white. Brown sugar is typically white sugar with molasses added to the sugar crystals. All sugars – whether white sugar, brown sugar, honey, maple syrup or molasses – provide calories and no other important nutrients. They are absorbed the same way in the body and they all provide the same amount of calories (4 calories per gram). The key is to focus on the amount of sugar eaten. Also, it's important to remember that foods that are high in sugar are often also high in fat and calories. This can cause unwanted weight gain and may contribute to other concerns such as cholesterol levels.
Sugars appear disguised under many different names. The more common ones are sucrose (table sugar), brown sugar, cane sugar, invert sugar, concentrated fruit juice, corn syrup, honey and maple syrup. Just like sucrose, other sugars that end in "ose" such as glucose, lactose, maltose and fructose all affect blood sugar and are found in many food products. Once consumed, these sugars will eventually be broken down into glucose. Glucose is the sugar found in blood.
More recently, people are discovering other types of sugars that are believed to have a more favourable effect on blood sugar such as agave nectar and coconut sugar, also known as palm sugar.  Both these sugars have a lower glycemic index than traditional sucrose (or table sugar) which means they don't raise blood sugar as quickly. Depending on how these sugars are produced, their effect on blood sugar can vary greatly.  The bottom line is that all sugars, whether naturally occurring or processed, will affect blood sugar. It is ultimately the quantity that matters. Using a blood glucose meter can really help a person to understand the effect of the type and the amount of sugar eaten.