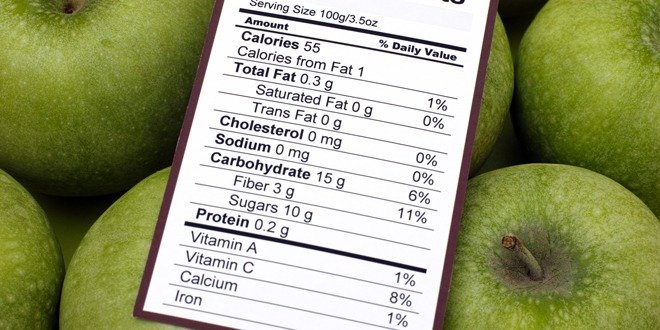 Understanding sugar content on food labels is important, to ensure that you're consuming healthy amounts. Reading the ingredient lists and nutrition facts tables on packaged foods is a helpful way for you to check what kind, and how much, sugar a product has.
Finding sugar content in the ingredients list
The ingredients are listed in order of weight, beginning with the ingredient that weighs the most and ending with the ingredient that weighs the least. This means that a food contains more of the ingredients found at the beginning of the list, and fewer of the ingredients at the end of the list.
Take, for example, the following ingredient list for a bran cereal: whole grain wheat, wheat bran, sugar, salt, sunflower oil, vitamins and minerals (thiamine, Vitamin B5, folic acid, iron). Sugar is the third ingredient in this list, which means that there is more whole grain wheat and wheat bran than sugar in this product.
Knowing where sugar falls in the list of ingredients can help you determine whether there is a lot or a little present in the food.
Finding sugar information in the nutritional values list
Once you've read an ingredient list, and know that the item contains sugar, it's important to look at the nutritional facts table to determine exactly what kind – and how much – sugar is present in the food. Sugar is a carbohydrate, so it is always listed under the "carbohydrate" section of the nutrition facts list.
Are there other names for sugar in ingredient lists?
It's important to remember that sugar can be present in foods in a number of different forms. Here are just a few types of sugar that can be listed on an ingredient list:
Cane juice
Corn syrup
Dextrose
Fructose
Glucose

 

Honey
Lactose
Maltose
Molasses
Sucrose

 
Recent changes to the listing of sugar content on food labels
In recent years, Health Canada changed the way that sugar is listed in the nutritional facts table of foods. There are two main changes:
A "% daily value" is now included for total sugars to help you compare the sugar content of different foods; it also helps identify sugary foods that should be limited, such as those with a daily value of 15% or more.
Further information about "% daily value" is now included in a footnote at the bottom of the nutritional facts table to help you understand how much sugar and other nutrients (such as sodium or fat) are in a particular food. Briefly, when it comes to sugar content, 5% or less is a little, while 15% or more is a lot.
After the name "sugars," any sugar-based ingredients are grouped together in brackets in descending order by weight. (This is not required for products containing less than 5 grams of sugar per serving.)
Determining carbohydrates that impact blood sugar
Once you've figured out what kind, and how much carbohydrate is in a food product, it's important to know how it affects your blood sugar.
Carbohydrate is one of the body's main sources of energy, and is broken down into glucose relatively quickly. That's why it has a more pronounced effect on blood sugar levels than either fat or protein.
However, not all carbohydrates are alike. On a food label, the total amount of carbohydrate in grams is listed first. This number includes starch, sugars and fibre. Fibre does not raise blood sugar levels and should be subtracted from the total carbohydrate. Say, for example, one serving of food contains 36 grams of carbohydrate, which includes 6 grams of fibre. The fibre portion would be subtracted from the total carbohydrate (36 grams total – 6 grams of fibre), meaning that the serving of food contains 30 grams of available carbohydrate.
This is important information if you use carbohydrate counting to determine your insulin dose. It's also good to see how much sugar is in a product, to know how it will affect your blood sugar.