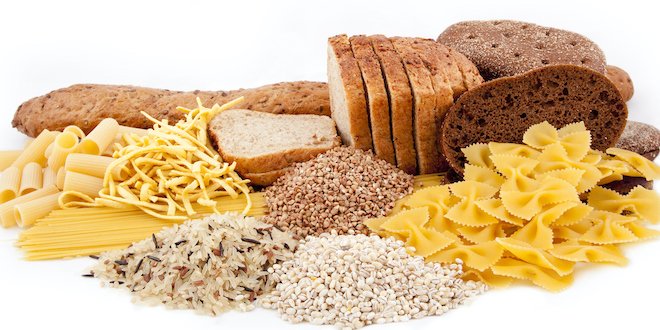 Carbohydrates are an important part of your nutrition plan, because they are one of the body's main sources of energy. Carbohydrates also have the greatest effect on your blood glucose levels. That's why knowing how much carbohydrate you are consuming can help you keep your blood sugar levels in their target ranges.
How many carbs per day are recommended for people with diabetes?
The Diabetes Canada clinical practice guidelines recommend that 45% to 60% of a person's daily calories should come from carbohydrate. As well, the guidelines recommend that women should consume between 45 and 60 grams of carbohydrate per meal, while men should consume 60 to 75 grams of carbohydrate per meal. Your healthcare team – which includes a dietitian – can help you determine the right amount of carbohydrates for you.
To determine the impact of carbohydrate on your blood sugar levels, it is a good idea to test your blood sugar just before you eat, and then two hours after a meal. You can then see how carbohydrate raises your blood glucose level, and by how much.
So, what foods contain carbohydrate – and how much?
We'll review the carbohydrate content of various foods groups in this article. (Check the Nutrition Facts Table on packaged foods for the exact amount of the carbohydrate content of the foods you're consuming.)
Food

Amount

Carbohydrate

Beans, grains and pasta

Bagel, large (restaurant/bakery)

1

80 to 100 grams

Bagel, medium (grocery store, packaged)

1

40 to 50 grams

Beans, legumes and lentils

½ cup

15 grams

Bread

1 slice

15 to 25 grams

English muffin

1

30 grams

Hamburger or hotdog bun

1

15 to 30 grams

Oatmeal, cooked

½ cup

10 grams

Pasta, cooked

½ cup

15 to 20 grams

Pita bread, six inches

1

30 grams

Rice, white or brown, cooked

½ cup

20 to 30 grams

Tortilla, corn, 7 inches

1

15 grams

Vegetables – starchy

Corn, cooked

½ cup

15 grams

Parsnips, cooked

½ cup

15 grams

Peas, cooked

½ cup

10 grams

Potato, large, baked with skin

1

60 grams

Potato, mashed with milk

½ cup

15 grams

Squash

1 cup

20 grams

Sweet potatoes and yams

1 medium

20 grams

Dairy products

Milk

1 cup

12 grams

Rice milk, plain

1 cup

23 grams

Soy milk, plain

1 cup

8 grams

Yogurt, flavoured, artificially sweetened

100 grams or ⅓ cup

6 grams

Yogurt, flavoured

100 grams or ⅓ cup

15 grams

Yogurt, plain

100 grams or ⅓ cup

6 grams

Fruits

Apple, small

1

15 grams

Banana, six inches

1

20 grams

Blackberries

1 cup

7 grams

Blueberries

1 cup

15 grams

Cherries

12

15 grams

Grapefruit, large

½

15 grams

Grapes

15

15 grams

Nectarine, medium

1

15 grams

Orange, medium

1

15 grams

Raspberries

2 cups

15 grams

Strawberries, halved

2 cups

15 grams

Watermelon, diced

1 cup

10 grams

Condiments

Honey

1 tablespoon

15 grams

Jam and jelly

1 tablespoon

15 grams

Ketchup

¼ cup

15 grams

Sugar

1 tablespoon

12 grams

Snacks and baked goods

Donut, plain

1

25 grams

Melba toast

4

15 grams

Popcorn, popped

3 cups

15 grams

Potato chips

10 to 15

15 grams

Pretzels, small

33

15 grams

Saltine crackers

7

15 grams

Tortilla chips

10 to 15

20 grams
Is carb content important for people with type 2 diabetes?
Everyone needs carbs as they provide the main energy source. But it's important to choose the right ones. Knowing the amount and type of carbohydrates you consume can help you learn how to manage your blood glucose levels more effectively.
People have successfully followed low carb diets to lose weight and manage their diabetes including lowering their A1C, cholesterol and blood pressure levels as well as reducing the amount of diabetes medications they take. Research has shown that these diets are generally effective in the first 6 months for weight loss, but they are difficult to maintain for the longterm. If you are restricting your carb intake and are taking diabetes medications that put you at risk of hypos, check your blood glucose levels regularly and speak to your healthcare team to review your medications.
In general, it is better to aim for an overall healthy eating pattern rather than to restrict one component of the diet. A healthy diet includes higher amounts of whole fruits and vegetables, whole grains, healthy fats (vegetable oils), and healthy proteins (nuts, legumes, eggs, seafood, and poultry) and limits bad carbs (such as refined grains and added sugars), red and processed meat, sodium, saturated fats, and trans fats.