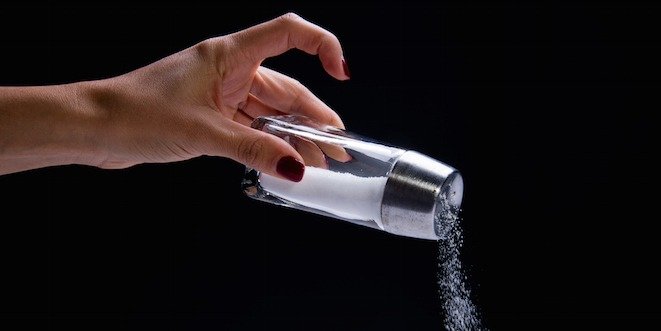 No time to make dinner tonight?  Just grab a frozen meal in the freezer section at the grocery store or better still, pick up a take-out chicken meal on the way home.  Problem solved, right? Think again, the availability of these convenient meal options comes at a high price for people with diabetes who are trying to manage or prevent high blood pressure.
In addition to watching carbs and sugar intake, an important part of taking care of diabetes involves managing hypertension. Making the right food choices can control or even prevent hypertension. These choices involve more than simply avoiding "salty" foods.
Even though getting rid of the salt shaker can help reduce sodium in the diet, most of the sodium we eat – around 77% – is from processed food and restaurant meals. Sodium in food can affect blood pressure. Decreasing how much sodium is consumed can help lower high blood pressure. With today's busy schedules, meals are frequently made up of processed foods or eaten in restaurants, making it difficult to control the amount of sodium we consume. While many restaurants offer low sugar and low fat choices, much of their food is still high in sodium.
For a healthy blood pressure, current guidelines suggest a sodium intake towards 2,000 mg per day. Eating fewer processed foods and more fresh foods is one of the best ways to cut back on sodium. There are many nutrition tips to help lower blood pressure. Some helpful tips include:
Season foods with herbs and spices instead of salt. Use as little salt as possible in cooking and avoid adding salt at the table
Plan meals in advance. Prepare home-cooked meals more often.
Read labels and choose products with less than 120 mg of sodium per serving.
Choose foods in packages labelled "low sodium", "reduced sodium" or "no added salt"
Limit the use of these common processed or salty foods:

canned or packaged soups
processed cheese (slices or spreads)
cured or smoked meats such as sausage, hotdogs, ham, bacon, pepperoni
canned vegetables, meats and fish (rinsing with water can reduce the sodium of these items)
vegetable juices and tomato juice
salted snack foods such as chips, crackers, popcorn and nuts.
dips, pickles, pickled foods, olives, ketchup, soy sauce, barbeque sauce

Include 1-2 servings of vegetables at lunch and dinner. Have 2 servings of low fat milk and milk products daily (such as low fat yogurt and skim milk)
The DASH diet eating plan has been proven to lower blood pressure in studies sponsored by the National Institutes of Health (Dietary Approaches to Stop Hypertension).  In addition to being low in sodium, the DASH diet provides additional benefits to reduce blood pressure. It is based on an eating plan rich in fruits and vegetables, and low-fat milk products, with whole grains.
Trying to change too many things all at once may be overwhelming and difficult to sustain.  Go through the above list of suggestions again and decide which ones you are willing to try.