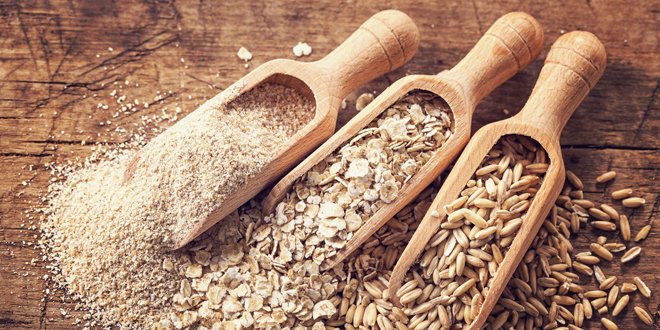 Not all grains are created equal, so it's important to choose the ones that are going to add the most benefit to your diabetes meal plan. Here's the whole truth about whole grains and diabetes, plus some compelling reasons why you should opt for whole grain foods whenever possible.
What are whole grains?  
Unlike refined grains, whole grains contain all parts of their seed (bran, endosperm and germ) to retain the most nutrients. The outer layer (or bran) provides the most fibre, while the germ provides good amounts of B and E vitamins. The endosperm contains carbohydrates and protein, plus other vitamins and minerals.
Refined grains, on the other hand, have had their germ and bran removed (e.g., white flour, white rice, cream of wheat) resulting in a loss of fibre, along with fewer vitamins and minerals. Some refined grains are enriched with vitamins and minerals, but they're still lacking all the nutrients found in whole grains.
What is the difference between whole grains and whole wheat?
Just because a food is promoted as whole wheat or multi-grain, doesn't mean it is whole grain. In Canada, for example, whole wheat flour has had most of its germ and some of its bran removed, so that 100% whole wheat bread is definitely not whole grain. (Whole wheat bread is still more nutritious than white bread, mind you.)
Some foods may look like they're whole grain—caramel colouring is sometimes added to bread to make it look darker, for example—so it's important to read the ingredient list. For whole wheat flour to be considered whole grain, its ingredient list should contain words such as "whole grain whole wheat" or "whole wheat flour with added germ". When choosing whole grain products, make sure whole grains appear first on the ingredient list, too (e.g., whole barley or whole rye). Don't be fooled by products listed as 'multi-grain' either. Even though they include a variety of grains, these may not be whole grains.
When shopping for whole grain foods, try and look for healthier, higher-fibre options whenever possible. A "high fibre" food contains at least 4 grams of fibre per serving.
Why should whole grains be included in a diabetes diet?  
Whole grain foods contain essential vitamins, minerals and fibre. That's why Canada's Food Guide recommends we eat whole grains as part of a healthy diet. Research also shows that eating foods higher in fibre can help lower your risk of developing type 2 diabetes and heart disease, as well as help in reducing your risk of some cancers and stroke. The fibre in whole-grain foods also help us in maintaining regular bowel movements.
How do whole grains affect blood sugar levels?
Research has shown that choosing whole grains over refined grains can help you achieve optimal blood sugar levels and reduce insulin sensitivity. Choosing rolled oats instead of refined instant oatmeal, for example, releases a slower and steadier rate of sugar into your blood. Highly refined grains will release that sugar much more quickly, resulting in spikes in your blood sugar levels.
What are some examples of whole grains?
Here are some tasty whole grains to try in future meals:
brown and wild rice
whole oats
buckwheat
rye
quinoa
bulgur
corn (including popcorn)
farro
freekeh
amaranth
millet
whole grain or pot barley*
*NOTE: Although pearl barley is technically a refined grain, it's much healthier than other refined grains because some of the bran may still be present. Also, the fibre in barley is distributed throughout the kernel, and not just in the outer bran layer. Pearl barley is still a healthy choice, but is not a whole grain.
How do I incorporate more whole grain foods into my diabetes meal plan?
There are plenty of delicious ways to add more whole grain foods to your eating options. Here are several examples:
Start your day with whole grain cereal, oatmeal or whole grain toast
Try adding a whole grain you've never tried before (e.g., farro, buckwheat or freekeh) to your meal planning every week
Stock your pantry with whole grain foods such as oats, brown rice, quinoa and whole grain pasta to use in a pinch
Substitute white rice with brown, or whole grain pasta for your regular variety
Add barley, quinoa or bulgur to your next soup or salad
Try millet or barley as a side dish instead of rice
Snack on whole grain crackers and hummus or another healthy dip
Search up recipes using whole grains to add to your weekly roster of meals
Here's more information on how to cook quinoa and millet and a recipe for whole grain fruit and granola to try.
Here are some tips to ensure a recipe is, in fact, a healthy choice for you when you have diabetes.
Keep in mind that whole grains generally have a shorter shelf-life than their refined counterparts. Be sure to store them in the fridge or freezer to keep them staying fresh longer.
The bottom line? Whole grains are a great addition to a healthy diet, especially when you have diabetes. If you're not doing so already, look for ways to add more whole grains into your daily food choices.