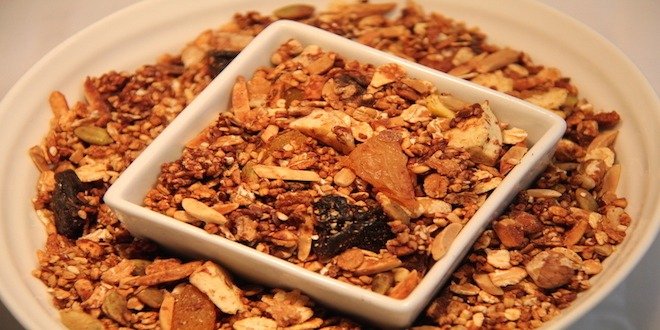 This granola is a lower-in-fat, lower-in-sugar version of the stuff we all love to eat. The mix of spelt, barley and oats gives it a great nutty flavor and texture, high in fibre and ranks low on the glycemic index making it a great grain choice! Many of these ingredients can be found in a specialty health food store or in the organic section of your local grocery store. Bob's Red Mill brand packages rolled oats, spelt, barley and kamut.
DIRECTIONS
Preheat oven to 325°F, line cookie sheet with foil.
In a large bowl, toss together all the grains and nuts and seeds; sprinkle with cinnamon and salt. In a small bowl or measuring cup, mix together the oil, juice, and syrup. Pour over grain/seed/nut mixture, and mix well.
Spread mixture on tin foil covered cookie sheet. Place in centre of oven. Cook for 10 minutes, remove from oven. Toss mixture around on the cookie sheet and place back in the oven, and cook for another 10 minutes. Remove, add coconut, toss, and put back in the oven. Cook for another 10 minutes. The mixture should be golden brown and crunchy. It will crisp more once it cools. Remove from oven.
Add dried fruit, mix and cool. Store in air tight container in a cool dry place for a few months.
INGREDIENTS
Grains & Nut Mixture– should be roughly 2 cups grain and nuts/1 cup flavours/liquid/dried fruit – this is my preferred version – it is simply a guide for improvising!
1 cup (100g) old fashion oats
1/3 cup (40g) EACH rolled spelt flakes, rolled barley flakes, rolled kamut flakes (note: if you are unable to find any of these flakes, simply replace it with more of one of the others)
1/3 cup (55g) raw natural unsalted almonds, coarsely chopped
1/3 cup (40g) natural unsalted California walnuts, coarsely chopped
3 tbsp (30g) raw natural unsalted sunflower seeds
3 tbsp (30g) raw natural unsalted pumpkin seeds
Optional ingredients – up to 2 tbsp of – ground flax seed, hemp seed, poppy seed, sesame seed, wheat germ.
Flavours/Liquids/DriedFruit
1½ tsp or more cinnamon
Pinch of kosher salt
1½ tsp vegetable oil
1 tbsp (15 mL) orange juice or apple juice
4 tbsp (60 mL) Natural agave syrup
¾ cup (50g) unsweetened shredded coconut
½ cup (100g) dried fruit – chopped apricots, raisins, dates, cranberries, cherries, gogi berries, chopped apple, pear, peaches
Optional Ingredients- 50g dark chocolate, chopped in small pieces
Makes about 4 cups. Serving size: about 1/3 cup (40g)
Nutritional information is based on recipe without optional ingredients.