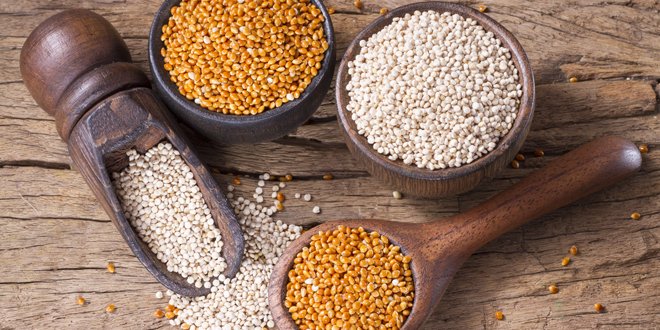 Grains are an important part of your diabetes diet. They are rich in fibre and protein, and contain plenty of vitamins and minerals (such as zinc, copper and magnesium). A diet rich in whole grains has been shown to reduce the risk of heart disease, type 2 diabetes, obesity and colorectal cancer. Read on to learn about diabetes and newer grains that you can add to your meal plan.
What are some commonly used grains for a diabetes-friendly diet?
The most commonly used grains for a diabetes-friendly diet include oatmeal, brown rice and whole wheat bread.
What do these grains have in common? They are all rich in fibre, which helps lower your cholesterol and blood pressure. Even better, foods that are fibre-rich are good for weight loss because they slow the digestive process in your body, which means you'll feel fuller for longer after eating them. Just as important, fibre can help lower your blood sugar levels.
While brown rice is generally high in carbohydrates, the fibre, antioxidants, vitamins and minerals contained in brown rice can improve blood sugar control, thereby helping people prevent or manage diabetes. Check out our recipe for lentil and brown rice pilaf.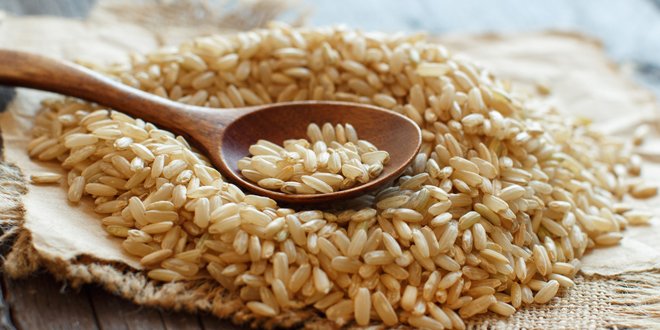 Oatmeal also helps to regulate blood sugar levels, thanks to its moderate-to-high fibre content and lower glycemic index. It is a heart-healthy choice, due to its soluble fiber content and the fact it can lower cholesterol. Check out our recipe for oatmeal with apple and walnuts.
Whole wheat bread is recommended for people with diabetes, instead of processed white bread, especially bread that is labelled "whole grain." This means that the grain is still intact and not processed, like white bread. Processed foods are usually digested and absorbed faster, and this can generate big spikes in your blood sugar.
What are some newer grains that can be incorporated into your diet?
Two newer grains that are gaining popularity just might prove to be a fun and tasty addition to your daily diet.
Quinoa is a tiny little seed that is nutty tasting and very nutritious. It is higher in protein and iron than most grains and is a very good source of fibre. It's also high in B-vitamins, magnesium, calcium and vitamin E. Quinoa has a lower glycemic index, so it raises blood sugar levels slowly. It is also a good source of protein, which makes it an excellent option for vegetarians and those who want to enjoy a meat-free meal.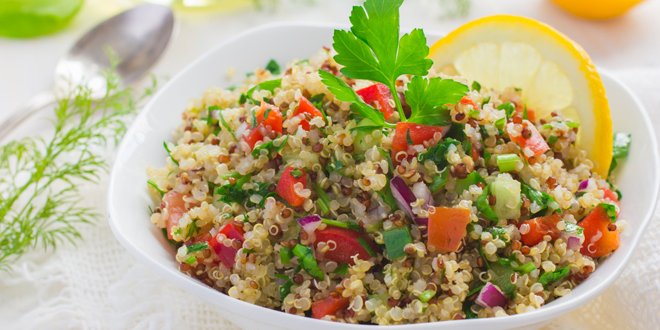 Millet is a starchy, protein-rich grain that is high in fibre, protein and antioxidants. It also contains plenty of the nutrients phosphorus and magnesium. Even better, millet is a very good source of calcium, which is necessary for good bone health and proper nerve function. Millet also has a lower glycemic index, meaning that it won't cause your blood sugar to spike.
How to shop for and cook with quinoa and millet
You can find quinoa and millet in your grocery or health food store, in the grain and pasta section. They are both cooked similar to the way that you'd cook rice (i.e. simmered on the stove in a pot of water or stock). There are lots of ways to incorporate quinoa and millet into any meal, including:
Adding cooked and cooled quinoa or millet to a salad
Using them as a base for breakfast porridge (instead of oatmeal), topped with fruit, nuts and yogurt
Substituting cooked quinoa or millet for ground beef in hamburger and taco recipes
Adding them to stews and soups
Using them instead of rice in stuffed pepper recipes
Serving them as a side dish, instead of potatoes or pasta.
And for delicious and easy quinoa recipes check out these ones for quinoa and black bean salad, chicken vegetable quinoa soup and quinoa pizza snack bites.