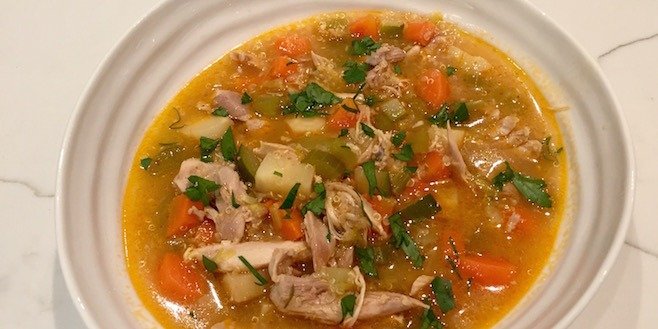 If you don't have plans to stay home all day and make your grandmother's chicken soup, this is a delicious and nutritious alternative.  The addition of quinoa adds amazing texture and a ton of nutrition.  If quinoa is not your thing, boil up some egg noodles on the side and throw them into the soup before serving.
INGREDIENTS
5 bone-in chicken thighs, skin and fat removed
2 tsp vegetable oil
1 large leek (white and light green parts only), sliced into half moons and washed
1 tbsp tomato paste
2 carrots, diced small
1 parsnip, diced small
2 small stalks celery, diced small
4 cups chicken stock, no/low sodium
3 cups water
⅓ cup DRY quinoa
1 small zucchini, diced small
DIRECTIONS
Pat dry the chicken thighs.
Heat the oil in a medium size soup pot over med-low heat.  When the oil is hot, add the chicken and cover the pot.  Cook for 10 minutes, turning once or twice.  The object is to steam the chicken not to brown it; you want to get rid of the pink color.
Stir in the leeks and cover the pot and cook until the leeks begin to soften, about 5 minutes.
Add the tomato paste, toss and cook for 30 seconds or so.  Add the carrots, parsnips, celery and cook until the veggies begin to soften, about 5 minutes.  Add the stock, water and salt and bring to a vigorous simmer over high heat.  Lower the heat, maintain a gentle simmer and cook uncovered for 45 minutes.  The chicken should be very tender and falling off the bone.  Remove the chicken and set it aside.  Allow the chicken to cool.
While the chicken is cooling, rinse the quinoa well in a strainer and add the quinoa and the zucchini to the broth and cook for another 20-30 minutes.