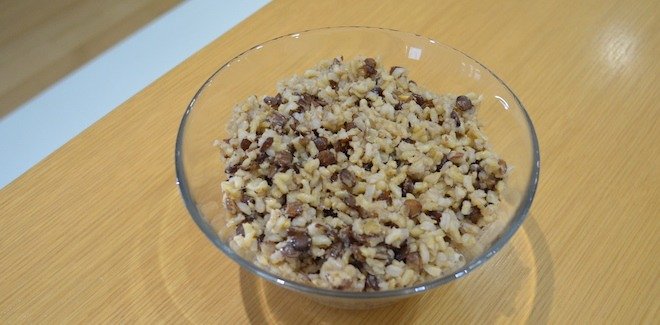 INGREDIENTS
1 tbsp extra virgin olive oil
1 small onion, finely chopped
1 cup brown rice
3 cups low sodium chicken/vegetable stock (you can use water if you wish)
¼ tsp salt
Pepper to taste
½ cup dry green/brown lentils
DIRECTIONS
Heat oil in medium-sized pot over medium heat. Add onion, sauté until translucent, about 5 minutes.
Add rice and sauté for 1 minute. Add salt and pepper. Add stock or water, cook over medium/low heat uncovered for 15 minutes.
Add lentils, and cook for 30 minutes covered on low heat.
Toss with a fork and serve!
Serves 8 (¾ cup servings)
NOTE: This can be made in advance and reheated in the pot.