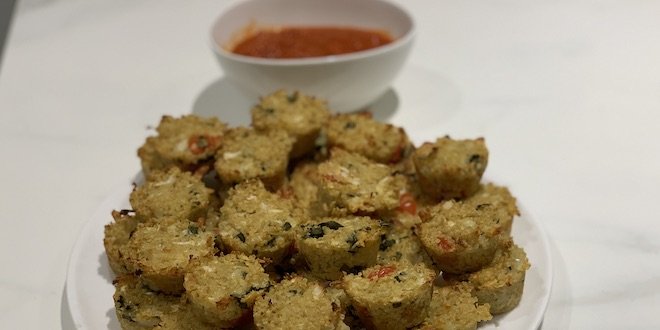 I call these a snack, but a handful of these, a great salad and eggs, would make for a delicious light dinner – a perfect meal! Kids and adults love these. They are perfect in the lunchbox, warm or room temp! You can make these in fun shapes such as heart shaped muffin cups or a regular 24 mini-cup muffin tin.
INGREDIENTS
1 cup dry quinoa,cooked and cooled*
2 eggs, lightly beaten
1 cup finely chopped onion (about 1 med-large cooking onion)
1¼ cup shredded mozzarella
2 cloves garlic, minced
½ cup chopped fresh basil
½ cup chopped cherry tomatoes or sun-dried tomatoes packed in oil (or a combo of both)
½ tsp kosher salt
1 tsp paprika
1 tsp dried oregano
About 1 cup pizza sauce for dipping (optional)
DIRECTIONS
Preheat oven to 350°F.
Grease a 24-cup mini muffin tin with non-stick spray.
Mix the cooled quinoa with all the other ingredients EXCEPT the pizza sauce.
Fill each cup to the top with the mixture, press down to compact a little and then fill up some more.
Bake for 20 minutes or until golden brown.
Let cool for 10 minutes before removing them from the muffin tin.
I like to "reheat" them in an oven set to broil with the rack in the top position. I place each mini muffin on a tin foil lined cookie sheet and sprinkle them with a little extra shredded cheese, and then broil until the cheese is melted and bubbling.
Serve with warm pizza sauce in a separate bowl.
*To cook quinoa: Rinse quinoa in a strainer, put into a small sauce pan with 1½ cups water, and bring to a boil. Reduce the heat and simmer covered for 15 minutes, fluff with a fork and let cool with lid off.
Serves 12 (2 snack bites each), about 62g.
NOTE: Nutritional content below is based on using sundried tomatoes.