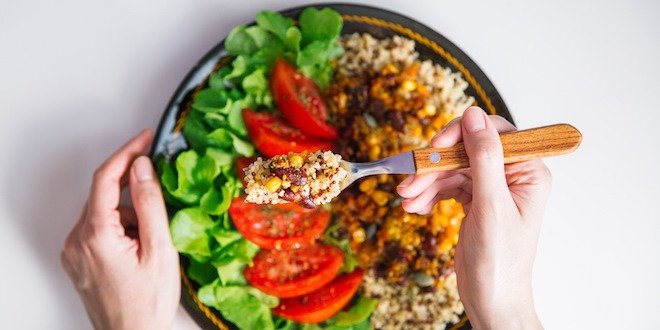 Canada's Food Guide was updated in January 2019, and there are some striking changes from the previous version. This article will present an overview of the new Canada's Food Guide.
What are the main changes to the new Canada's Food Guide?
The main changes in the 2019 food guide include the following:
There are now three food groups, instead of the previous four:

The three new groups are: protein foods, whole grain foods, and fruits and vegetables
The previous four groups were: grain products, fruits and vegetables, meat and alternatives, and milk and alternatives

Water is identified as the beverage of choice for all Canadians. Interestingly, this is the first time in the history of the food guide that milk and alternatives has been absent as a food group.
Greater emphasis is placed on consuming whole grains and plant-based (vs. animal-based) proteins.
The guide recommends "eating a variety of healthy foods each day," rather than offering advice on the number of servings that should be consumed.
What about portion size?
Instead of defining or designating recommended servings and portion sizes (as the previous food guides did), the 2019 version encourages Canadians to incorporate the three food groups at mealtime by dividing their plate into three sections:
One-half of the plate should be composed of fruits and vegetables.
One-quarter of the plate should be composed of whole grain foods.
One-quarter of the plate should be composed of protein-containing foods. Besides animal-based proteins, Canadians are encouraged to consume plant-based proteins on a regular basis, including:

nuts and seeds (for example, peanuts, almonds and nut butters)
beans, peas and lentils
What about drinks?
Canadians are encouraged to make water their drink of choice (instead of milk). The guide provides tips and advice regarding how to consume water regularly, including:
Drinking it hot or cold
Drinking it with meals
Carrying a reusable water bottle with you when you're out and about
Sipping fruit- and herb-infused water or carbonated water
However, the guide does recommend healthy drink options other than water, including:
Unsweetened lower-fat white milk
Unsweetened fortified plant-based beverages, such as soy or almond beverages
Unsweetened coffee and teas
Drinks that should be limited include those with higher amounts of sodium (e.g. vegetable juices), sugars (e.g. pop, fruit juices, sweetened milks) and saturated fats (e.g. specialty coffees and teas).
What about fats?
The 2019 Canada's Food Guide recommends consuming more healthy fats and fewer saturated fats. Foods that contain healthy fats include:
Seeds
Fatty fish (for example, salmon, trout and mackerel)
Vegetable oils
Soft margarine
Healthy fats for cooking include corn, olive, canola, peanut and sesame oils, among others.
Healthy eating habits
The 2019 Canada's Food Guide offers advice on food behaviours that foster healthy eating habits, including:
Being mindful of eating habits by taking the requisite time to eat and savour a meal, and being aware of "hunger cues," i.e. listening to your body to know when you're hungry and when you're full.
Cooking at home more often, so that you can plan healthy meals in advance and involve family members and friends in meal preparation. The social aspect of cooking and eating can also foster healthy eating habits.
Framing your eating habits with respect to your cultural background and food traditions, which can help grow your cooking skills and knowledge, create a sense of community and foster connections, and keep your cultural roots and food traditions alive by sharing them with others.
What are the limitations of the new food guide?
While the 2019 Canada's Food Guide has generally been well-received, some critics have noted that it still has some limitations, including:
It does not fully address Canada's cultural diversity, i.e. there are few mentions of incorporating traditional Indigenous foods (for example, game meat, corn soup or wild blueberries that are common to Ingenious peoples) or foods that would be recognizable to recent immigrants to Canada.
The food guide continues to emphasize fresh produce; however, frozen produce is cheaper than fresh and is still nutritious.
Food security (the availability of food and peoples' ability to access it) is not addressed; food security is a significant issue in Canada, especially among low-income families, recent immigrants and Indigenous communities.