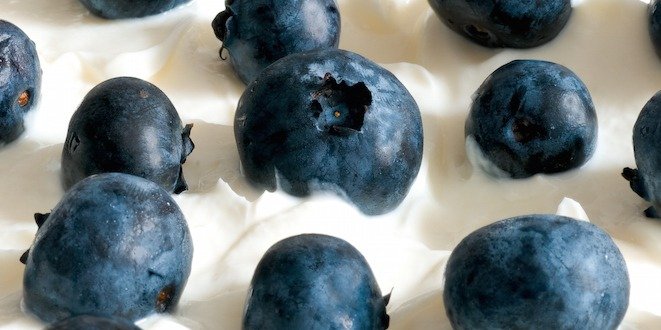 These 10 diabetes superfoods can help you control your blood glucose levels, lose weight or maintain a healthy weight and prevent heart disease.
1. Blueberries
Blueberries contain both insoluble fibre (which flushes fat out of your system) and soluble fibre (which slows down the emptying of your stomach, and improves blood sugar control). Eat a handful of fresh berries with a meal, or sprinkle them on yogurt or oatmeal. Learn about other fruits that are good to add to your menu.
2. Nuts
Almonds, cashews and walnuts contain heart-healthy omega 3 fats, and their fibre content also helps you feel full. One ounce of these nuts makes a great between-meal snack; you can also add a handful of nuts to a salad or sprinkle them over yogurt. Learn more about the health benefits of nuts from our dietitian.
3. Beans
All beans – whether you prefer kidney, pinto, navy, cannellini or black beans – are packed with protein and cholesterol-lowering fibre. In fact, just ½ a cup of beans provides you with ⅓ of your daily fibre requirement. They're also good sources of magnesium and potassium. Add beans to soups and stews, or sprinkle them on top of a salad. Learn more about the benefits of beans.
4. Fish
Fish is one of the best meal-planning options you can go for. It's high in omega 3 fats and rich in protein. A fish-rich diet can also reduce your risk of stroke. Excellent fish choices include salmon, trout, herring, albacore tuna, mackerel, halibut and sardines. Broil, bake or grill fish, instead of deep frying, to ensure you get the maximum health benefits. Learn more about why fish should be on your menu.
5. Dark green leafy vegetables
Spinach, collards, kale and arugula are incredibly low in calories and carbohydrate, so it's impossible to eat too much! Many dark greens also contain a compound called sulforaphane, which helps to improve blood sugar control and prevent heart disease. Enjoy a large salad (with a low-fat dressing) for lunch, or add greens to soups and stews.
6. Whole grains
When selecting grains, it's the germ and bran of the whole grain you're after, as they contain all the nutrients that a grain product has to offer. Whole grains are known to reduce the risk of heart disease by reducing blood pressure and cholesterol levels. They're also digested slowly, so they'll help you feel full longer. Start your day with a bowl of oatmeal for breakfast, cook brown or wild rice instead of white rice, and choose whole grain breads for sandwiches to incorporate whole grains into your everyday diet. Learn more about why you should add more whole grains to your diabetes diet.
7. Yogurt
It's well known that yogurt is an excellent source of calcium, helping to build strong bones and teeth. It's also an excellent source of vitamin D and protein. However, Greek yogurt is especially high in protein, and generally contains twice as much as regular yogurt (Greek yogurt contains 8 grams of protein in a 100-gram serving, vs. 4 grams for regular yogurt). Eat a cup of yogurt for breakfast, and use Greek yogurt to make delicious and creamy sauces and salad dressings. Learn more about the health benefits of yogurt.
8. Olive oil
A diet that's rich in olive oil (for example, the Mediterranean diet) is not only good for people with diabetes, it can also help to prevent or delay the onset of the disease. That's because extra virgin olive oil reduces blood sugar levels more than other kinds of fats, and is also rich in antioxidant nutrients that protect cells from damage and prevents the development of heart disease. Use olive oil in salad dressings, or in marinades or sauces for meat, fish, poultry and vegetables. Learn about healthier cooking oil options for people with diabetes.
9. Spices
Cinnamon and turmeric have both been shown to reduce blood sugar levels. People who consume one or more grams of cinnamon every day also have reduced low-density lipoprotein cholesterol levels. The active ingredient in turmeric is called curcumin, a compound that helps to lower cholesterol levels and other symptoms linked to obesity. Use these delicious spices when making soups, stews and curries. Learn more about simple cooking with spices.
10. Sweet potatoes
This starchy vegetable is chock full of vitamin A and fibre. Sweet potatoes are also known to lower blood glucose levels. Try them in place of regular potatoes for a lower glycemic index alternative. Roasting or baking sweet potatoes (with a drizzle of olive oil) is a delicious way to enjoy their health benefits. Check out this delicious recipe for roasted sweet potato fries