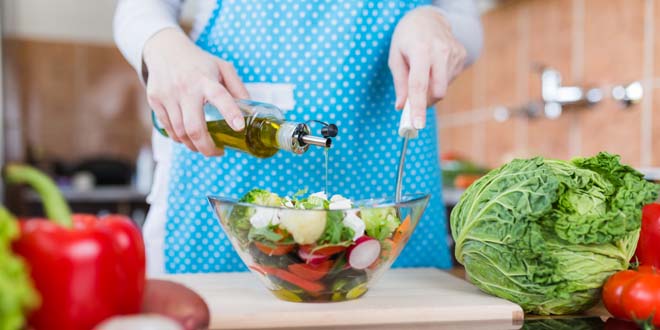 These days we're hearing a lot about the benefits of olive oil in cooking. But it's only one of many plant-based healthier cooking oil options available to us. Here's the scoop on why olive oil and several other healthy cooking oils are good to use in a diabetes meal plan.
Olive oil: Yes, there is merit to all the hype around olive oil. Not only is it rich in healthy monounsaturated fats which can improve cholesterol levels and ultimately heart health, olive oil is also packed with antioxidants to help fight against diseases, including type 2 diabetes.
Olive oil, especially the extra-virgin variety, has been shown to lower blood pressure, protect against "bad" LDL cholesterol and improve the function of blood vessels. Extra-virgin olive oil is made of pure, cold-pressed olives, while the standard kind is a blend of cold-pressed and regularly processed oils.
Olive oil has lots of flavour too, often described as grassy and peppery with a fruity aroma. That's why it's a good choice for adding a flavour boost to home-made salad dressings and dips, or for drizzling on roasted vegetables and other meals. Avoid cooking with olive oil over high heat as it will smoke quicker than other oils (the smoke point – the temperature at which it begins to smoke and degrade – is usually between 365F to 420F).
Canola oil: Developed in Canada by scientists at the University of Manitoba, canola oil is filled with healthy monounsaturated fats. It's also a good source of healthy polyunsaturated fat. Replacing saturated fats with monounsaturated fats and polyunsaturated fats reduces blood cholesterol, making it a heart-friendly choice. Read more on the benefits of canola oil.
Canola oil can withstand higher heat than olive oil, plus it has a neutral flavour, therefore it's a great choice for baking. Canola is often cheaper too, making it a good bet when you're on a budget.
Safflower oil: Overall, safflower oil is a great source of unsaturated fats, the good fats. There are two kinds of safflower oil. High-linoleic safflower oil is rich in polyunsaturated fats and is useful for foods that are not heated such as salad dressings. The high-oleic kind contains more monounsaturated fats, and can be used for cooking at high temperatures.
Safflower oil has a higher smoke point than all other oils on this list, making it ideal for cooking at high heat. It also has a neutral flavour, so it pairs well with many kinds of dishes. Some people even use it to moisturize dry skin.
Sunflower oil: Also high in poly- and monounsaturated fats, sunflower oil has a healthy dose of omega-6 fatty acids, which are good for lowering bad (LDL) cholesterol. It also packs in vitamin E, which is good for boosting the immune system.
Regular sunflower oil is another neutral-tasting oil that's good for high-heat cooking methods, such as stir frying and sauteing. If you're using it for salads, opt for the more flavorful cold-pressed variety.
Avocado oil: Avocados are rich in vitamin E and potassium, and a great source of omega-3 fatty acids. It's no surprise then that avocado oil packs plenty of health benefits too. Filled with monounsaturated fats, it has a beneficial effect on blood pressure and overall heart health, as well as joint-related swelling and pain due to the anti-inflammatory effects of vitamin E.
Avocado oil has a high smoke point for high-heat cooking, plus it's flavorful enough to be added to salads and savory dishes.
Read more on the benefits of avocado.
Corn oil: As one of the most popular and affordable oils in the world, corn oil is filled with heart-healthy mono- and polyunsaturated fats, as well as Vitamin E and omega-6 fatty acids.
With a super-high smoke point (450F), corn oil is ideal for high-heat grilling and stir-fries. Plus, its neutral taste makes it a win for baking, too.
Sesame oil: Derived from nutrient-filled sesame seeds, this oil is rich in fatty acids and antioxidants, such as vitamin E. Some research has shown that swishing sesame oil in your mouth is even good for reducing bacteria and keeping gums healthy.
Oil made from raw sesame seeds has a lighter and more delicate flavour, while the kind made from toasted seeds is darker and nuttier in taste. Popular in Chinese, Japanese and Middle Eastern cuisines, sesame oil is often used to sauté meats and vegetables in stir-fry's or added to flavour marinades and dressings.
Remember that it's always better to choose a fat that's liquid at room temperature (e.g. the oils above) instead of solid fat (e.g. butter, lard, coconut and palm oils), which contains mostly saturated fats.
Eating too many saturated fats may raise unhealthy LDL cholesterol and lower the healthy or "good" cholesterol -HDL. In fact, research shows that replacing saturated fat with healthy fat has been linked to reducing the risk of heart attack and heart disease.
With all the oil options noted above, it should be easy to start using healthier oils in your cooking routine. Just remember that even the healthiest oils are dense in calories. A little goes a long way.
Find some tips on how to prepare healthier meals or how to determine if a recipe is a healthy one.
Here's how to set goals for healthier eating and a meal plan specifically for type 2 diabetes.