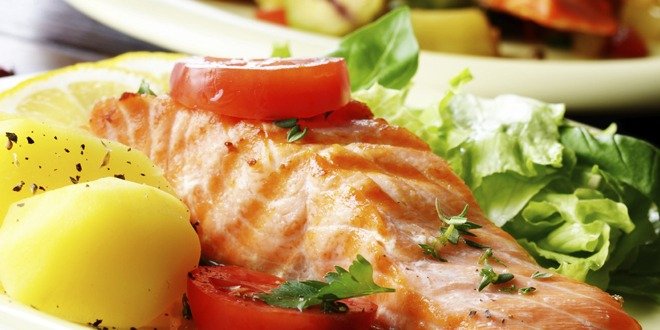 Whether you're planning a simple meal or an elegant four-course dinner, there are some tips and tricks you can incorporate to ensure that you prepare healthy, delicious foods that you and your family will love. Below are some ideas for healthy meal preparation, including appetizers, main courses, desserts and snacks. Bon appétit!
Tips for preparing appetizers and starters
Prepare a big leafy salad that everyone can dig into. Lots of leafy greens and an array of colourful veggies – for example, cherry tomatoes, alfalfa sprouts, bright red and orange peppers, and sliced cucumbers – will tickle everyone's taste buds.
Instead of buying fat-laden, processed salad dressings, make your own heart-healthy version with olive oil, vinegar, lemon juice and garlic.
For soups, prepare a clear broth instead of a cream-based concoction. It's heart-healthy, and definitely lower in calories. You could even purchase a low-sodium chicken or vegetable broth and add your own veggies to make a winning starter.
For a quick and easy starter, choose hummus with chopped veggies for dipping. Chickpeas form the base for a delicious hummus, and are an excellent source of fibre and protein.
Another excellent dipping choice is tzatziki, a Greek dip made from yogurt, minced cucumber, lemon juice and garlic. It's low in calories, but packed with zingy flavour.
For more ideas for appetizers, check out our recipes here.
Tips for preparing main courses
The best step you can take for preparing main courses is to equip your kitchen for low-fat food prep. This includes the following:

A steamer, so that you can steam vegetables instead of sautéing them in fat.
Non-stick skillets, so that you can sauté meat without adding extra fat or oil.
A roasting pan with a rack that allows fat to drip away.
Sharp knives are a chef's best friend! When knives are kept well-sharpened, it makes it much easier for cooks to trim away any excess fat, which means fewer excess calories!

Use cooking methods that do not add extra fat, for example, steaming, microwaving, broiling or baking. During the warmer months, get your barbeque out of storage and start grilling your dinner!
If you do want to use fat occasionally when cooking, choose oils that are high in unsaturated fats, and be sure not to use too much. (Remember, all fats are dense in calories, so they will add up quickly.) Some healthier choices include olive, sunflower, or canola oil.
When cooking meat, choose lean cuts over fatty cuts:

Instead of regular ground beef, choose extra-lean ground beef, or ground turkey or chicken.
Choose chicken or turkey breasts over legs or wings; white meat is lower in fat.
Choose center loin pork chops or pork tenderloin.

Choose fish at least twice once a week. This is an opportunity to be really creative, as there are so many different types of fish available in supermarkets now. Take your pick from cod, sole, halibut, salmon or haddock!
Most importantly, flavour your main dishes with herbs and spices, instead of salt. See the list at the end of this article for some yummy flavouring suggestions.
For more ideas for main courses, check out our recipes here.
Tips for preparing desserts
Instead of cake or pastries, choose fresh fruit. (Buy fruits that are in season for better value).
Low-fat yogurt and plain Greek yogurt provide an excellent base on which to top fresh fruit, especially berries. Instead of sugar, top your dessert with grated cinnamon and nutmeg for added flavour.
If you're in the mood for a frozen treat, select low-fat frozen yogurt; these days, there are a wide variety of flavours from which to choose.
For more ideas for healthy desserts, check out our recipes here.
Tips for preparing snacks
Microwave some plain, air-popped popcorn
You can pre-cut veggies into sticks (for example, carrots, celery and zucchini) and store them in the fridge until hunger strikes. They'll always be ready when you need a quick snack.
Try low-salt crackers made with whole grains (rye, whole wheat, or quinoa) and top them with low-fat cottage cheese or peanut butter.
Apples and cheese are a dynamite combination! A crisp apple accompanied by low-fat cheddar cheese will give you both fiber and protein.
For more ideas for healthy snacks, check out our recipes here.
Cooking without salt
There's a place for salt in a healthy eating plan, but most of us consume two or even three times the recommended amount, often without even realizing it. If you are used to adding salt while cooking, and at the table, you may find that food tastes bland when you first reduce the amount of salt in your meal planning. However, your taste buds take only about two weeks to adjust to a less salty taste; in fact, you may be surprised how salty some foods taste once your taste buds are used to less salt. Use this handy list of ingredients that can be used to replace salt in your meal preparation.
| | |
| --- | --- |
| Flavouring | Dishes |
| Allspice | Meats, fish, poultry, soups, stews, desserts |
| Anise | Soups, stews, vegetables, meats, poultry |
| Bay leaf | Soups, stews, meats, poultry, seafood, sauces |
| Basil | Soups, salads, vegetables, fish, meats |
| Cayenne pepper | Meats, poultry, stews, sauces |
| Celery seed | Fish, salads, dressings, vegetables |
| Chili powder | Meats, poultry, vegetable, fish, stews |
| Cilantro | Meats, sauces, stews, rice |
| Cinnamon | Salads, vegetables, breads, snacks |
| Clove | Soups, salads, vegetables |
| Cumin | Meats, poultry |
| Curry powder | Meats, shellfish, vegetables |
| Dill weed | Fish, soups, salads, vegetables |
| Garlic and garlic powder | Soups, stews, salads, vegetables, meats, poultry, seafood, sauces |
| Ginger | Soups, salads, vegetables, meats |
| Lemongrass | Soups, stews, meats, poultry, seafood, sauces |
| Marjoram | Soups, salads, vegetables, beef, fish, poultry |
| Nutmeg | Vegetables, meats |
| Onion powder | Meats, poultry, seafood, soups, salads |
| Oregano | Soups, salads, vegetables, meats, poultry |
| Paprika | Meats, fish, poultry, vegetables |
| Parsley | Salads, vegetables, fish, meats |
| Rosemary | Salads, vegetables, fish, meats |
| Sage | Soups, salads, vegetables, meats, poultry |
| Thyme | Salads, vegetables, fish, poultry |
| Vinegar | Soups, salads, vegetables, meats, poultry |