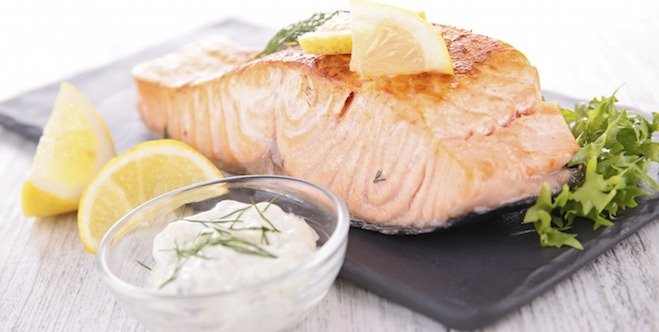 Want to help reduce the risk of diabetes complications? Replace some of the meat and chicken in your weekly meal plan with healthy fish or seafood choices. Putting fish on your diabetes menu is a great step to living healthily with diabetes. Here are some powerful reasons why fish should be on your menu.

Packed with nutrients for overall health
Fish and seafood are packed with the healthy vitamins and minerals required to keep the body in good working order. Seafood is a particularly good source of essential minerals like iron, selenium, zinc and iodine. Fatty fish such as salmon, trout, mackerel or tuna, are also a great source of vitamin D.
Fish helps cut heart disease risk
Fish and seafood are loaded with high-quality protein, without the high ratio of unhealthy saturated and trans-fats and cholesterol found in meats and in poultry fat and skin. Instead, most fish contain healthy unsaturated fat.
Many varieties of fish are particularly high in heart-healthy omega-3 fats. These unsaturated super-fats are believed to help lower blood pressure, slow hardening of the arteries, and reduce the risk of heart disease and stroke.
People with diabetes are at greater risk of these complications, so it's good reason to pile the plate with fish, especially oily fish. Salmon, trout, mackerel, herring and sardines pack the highest punch of omega-3 super-fats. Albacore tuna is another good source.
Fish helps meet diabetes targets
In addition to helping maintain healthy blood pressure and cholesterol levels, fish is also great for helping to reach diabetes management goals like blood glucose and weight targets.
Fish contains no carbohydrates, so it doesn't bump up blood glucose levels. Most varieties are also lower in calories than meats and poultry, making fish and seafood a perfect choice for weight loss diets.
One broiled or baked fish fillet can be as low as 125 calories. And as we've described, most fish or seafood is also very low-fat. This low-cal, low-fat, no-carb combination makes it the perfect choice for most weight maintenance diets.
Fish may cut kidney disease risk
A previous study out of Cambridge, England, reported that two or more servings of fish each week may help people with diabetes cut their risk of kidney disease.
The research showed that among the participants with diabetes, regular servings of fish lowered cholesterol and blood pressure, and increased glucose tolerance. Importantly, it also showed a reduction of albumin (a protein) in the urine. Kidney disease, a common diabetes complication, is often associated with high levels of albumin.
Recommended fish servings
Eating Well with Canada's Food Guide recommends at least 2 servings of fish each week (equivalent to at least 5 ounces of fish per week). Aim to avoid high-mercury fish such as shark, swordfish and king mackerel, and plan on a variety of fish, rather than sticking to one type alone.
Studies show that the benefits of eating most fish and seafood outweigh any normal health risks associated with mercury – so go ahead and fill your plate!
To help you with shopping for fish, check out our expert blog Navigating the grocery store for seafood.
For more diabetes meal-plan recommendations, check out our Healthy Eating videos.