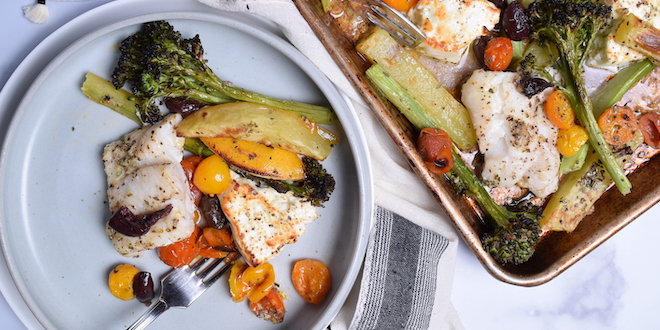 Sheet pan dinners are the way to go during the week—easy, simple cleanup and crowd pleasers! This recipe is also great with butterflied chicken breasts. If you are serving more than four people, add a second sheet and double the recipe (and use the convection setting).
INGREDIENTS
1 lb russet potatoes, peeled and cut into wedges
¼ cup (4 tbsp) olive oil, divided
3 tsp dried oregano, separated
4 cloves garlic, smashed and chopped a little
1 lemon, cut into small wedges
2 garlic cloves, chopped finely
2 tsp kosher salt
Plenty of freshly ground pepper
4 170-g/6-oz servings of fish (cod. salmon, sea bass, sea bream, swordfish or any fish you like)
1 bunch broccolini, ends trimmed and peeled if tough
1 cup grape or cherry tomatoes, halved
113 g or 4 oz creamy feta cheese, broken into 1- to 2-inch pieces
INSTRUCTIONS
Preheat the oven to 425˚F regular or 400˚F convection (see headnote).
On a rimmed baking sheet, toss the potatoes with 1 tablespoon of the olive oil and 1 teaspoon of oregano. Scatter the smashed garlic and lemon wedges around the potatoes and roast for 25 minutes.
In the meantime, mix together the remaining olive oil (3 tablespoons), finely chopped garlic, kosher salt and pepper. On your work surface (I line it with parchment paper), season the fish with half of this mixture.  Then use the remaining mixture to toss with the broccolini and tomatoes.
After the 25 minutes, remove the potatoes from the oven and nestle the fish in and around them. Scatter and nestle the broccolini and tomatoes around the fish and potatoes.  Then place the feta in the empty spots.
Return the pan to the oven and bake for 12-20 minutes or until the fish is cooked; it should flake when pierced with a fork.
Serves 4.