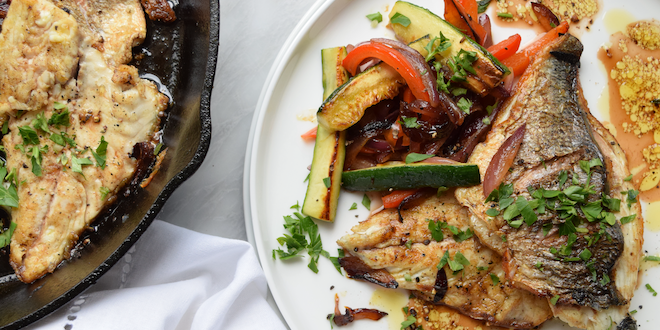 This is a delicious and simple weeknight meal.  It presents so beautifully. It is perfect for entertaining as well.  I prefer to use fish with skin on it, as it tends to fall apart less.
INGREDIENTS
For the Fish
4 x 6 ounce white fish fillets (skin on), such as sea bass, striped bass, snapper, cod or tilapia
2 tbsp extra virgin olive oil
1 red pepper, cut in 1-2 inch squares
1 red onion, cut in 1-2 inch squares
1 zucchini, cut in 1-2 inch squares
Salt and pepper to taste
Small handful of flat leaf parsley, chopped
Balsamic reduction
2 tbsp extra virgin olive oil
½ cup balsamic vinegar
1 tbsp honey
INSTRUCTIONS
Make the balsamic reduction by heating the olive oil (for the reduction) in a small pot or pan. Add the balsamic vinegar and honey, and simmer until it thickens and reduces, about 5 minutes. Reserve.  This step can be done well in advance (hours or a day or two; store at room temp or refrigerated) and the reduction reheated before serving.
Heat a non-stick fry pan to medium-high heat. Add 1 tbsp extra virgin olive oil.  Add the vegetables to the pan, toss to coat, and sprinkle with a little salt and pepper.  Cook for about 10 minutes or until the veggies are fork tender and browned on the edges.  Remove to a plate, cover with foil to keep warm.
Add the remainder of olive oil to the pan. With a sharp knife, score the skin of each filet twice.   If you are using fish that has no skin such as tilapia or cod, you do not need to score the fish.  Salt and pepper the fish fillets on both sides.
Lay the fish skin-side down in the hot pan (if there is skin on the fish). The fish may curl; you can give it a little "press down" with a spatula for a minute.  Cook for 2-3 minutes, flip and cook the other side for 2-3 minutes.
Divide the vegetables between the plates and lay the fish on top of the vegetables. Drizzle the fish, and around the fish, with the balsamic reduction.
Sprinkle parsley on top.
Serves 4