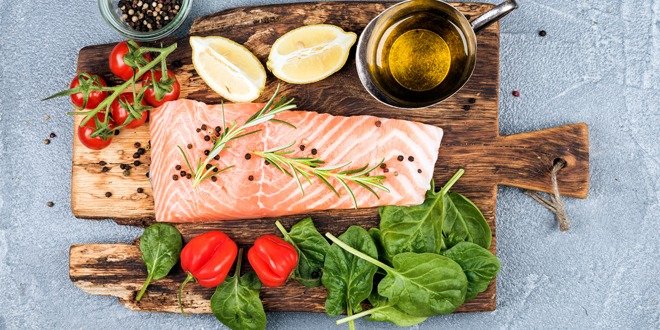 When a person has diabetes, carbohydrates get all of the attention. Equally important for the prevention of heart disease is how much fat you eat and, more specifically, the type of fat you eat.
You are probably aware that there are healthy fats and unhealthy fats. Eating less of the unhealthy fats goes a long way to lower your risk of heart disease. This means eating a diet low in saturated fat and rich in monounsaturated and polyunsaturated fats, including omega-3 fats. Omega-3 fats healthy fats for your heart.
This article looks more closely at omega-3 fats.
Omega-3 fats have many health benefits. In addition to lowering your risk of heart disease, they help with brain development in infants. Research is also showing a benefit of omega-3 fats in lowering the risk of dementia and Alzheimer's disease. For people with diabetes, omega-3 fats help prevent clogging of the arteries, lower levels of triglycerides (fats in the blood), and lower the risk of heart attack, stroke, and abnormal heart rhythms in people who have already had a heart attack.
There are three types of omega-3 fats. All three types of omega-3 fats are important to have in your diet:
ALA (alpha-linolenic acid)
DHA (docosahexaenoic acid)
EPA (eicosapentaenoic acid).
ALA is found in plant foods such as:
Flaxseed and flaxseed oil *
Soy products (such as tofu)
Walnuts
Canola oil
*Very little of the omega-3 fat is absorbed from flax seeds because the body can't digest it when it's whole. When the flaxseed is ground, the body can absorb the omega-3 much better.
EPA and DHA are found in fatty fish like:
salmon
mackerel,
sardines,
herring,
trout.
These fatty fish are the best source of omega-3 fats in your diet; Canada's Food Guide recommends you eat at least two servings of fish per week. One serving is equal to 75 grams (2 ½ ounces) or half a cup of cooked fish.
Here are a few tips for getting more omega-3 fats in your diet:
Add ground flaxseeds to oatmeal, cereal, and yogurt.
Have grilled salmon or trout for an easy and fast meal
Choose canned salmon – it's just as good as fresh and a little easier on the pocket book.
Use canola, flaxseed or soy oil on salads
Try sardines as a pizza topping or on crackers for a quick snack.
Buy grocery store foods such as eggs and margarine with added omega-3 fats.
Add walnuts to tuna salad for added ALA and extra "crunch"
Eat 2-3 walnuts as a snack every day or add them to salad or yogurt
Because fish is the best source of omega-3 fats, this may be a challenge for vegetarians or people who do not enjoy eating fish. These individuals may benefit from a fish oil supplement. Check the labels of supplements for an NPN (Natural Product Number). The NPN ensures that the supplement meets Health Canada's standards for safety and quality for natural health products. Before starting on an omega-3 supplement, speak to your health care professional about the amount and type of supplement that is best for you.