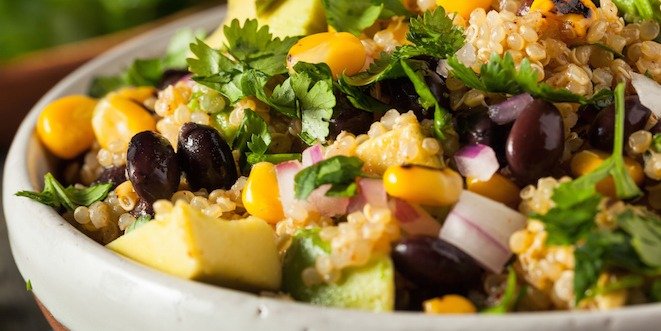 In other articles, we have talked about healthy ways of eating for people with diabetes and have concluded that there isn't one perfect diet that will work for everyone. In this article we will look at diabetes and vegetarian diets.

Are vegetarian diets good for people with diabetes?
The most recent guidelines from Diabetes Canada state that a variety of dietary patterns (different ways of eating) are helpful for people with diabetes. The type of diet a person chooses to follow is determined by their individual needs, preferences and abilities. There isn't enough evidence to recommend rigidly following any single diet.
One healthy option that a person with diabetes may choose to follow is a vegetarian diet. Vegetarian diets may provide a beneficial alternative for traditional diets in type 2 diabetes. Studies have shown that a reduced calorie vegetarian diet improves the body's ability to use insulin, especially when combined with exercise, resulting in improved blood glucose and A1C. Also a vegetarian diet can improve body mass index (BMI) and LDL-Cholesterol (the "bad" cholesterol) in people with type 2 diabetes.
Vegetarian diets are naturally higher in fibre and lower in saturated fat than more traditional diets. Higher fibre amounts may help with weight loss as it makes you feel full for a longer time after eating, resulting in eating less overall. People with diabetes are encouraged to eat 25-50 grams of fibre every day to improve blood glucose levels. Legumes, lentils, beans, whole grains, fruits and vegetables are all excellent sources of fibre. Diets lower in saturated fat can promote a healthier heart and prevent heart disease, which is common among people with diabetes.
Even near-vegetarian diets have been shown to reduce the need for insulin and oral medications in people with type 2 diabetes.
What exactly is a vegetarian diet?
When considering a vegetarian diet, speak to your dietitian. He or she can help create an eating plan that provides the appropriate number of calories to achieve and maintain a healthy weight, as well as all the necessary nutrients your body needs to be healthy. Some vegetarian diets include milk products while others such as "vegan" exclude all animal products.  
It's important to include a variety of vegetables, fruits, beans, whole grains, nuts, and except in the case of a vegan diet, low-fat milk products. Proper meal planning will make sure you don't miss out on the necessary vitamins and minerals, especially vitamin B-12, vitamin D, and calcium. A registered dietitian can provide suggestions for foods that contain these nutrients and may also recommend vitamins and supplements.
How do you get enough protein with a vegetarian diet?
Meat, poultry and fish are animal-based protein foods found in a traditional diet. For people following a vegetarian diet, there are many plant foods that provide protein. These foods include dried peas and beans or canned beans, lentils, soy and soy products, meat substitutes and nuts. These can all be used in place of meat-based protein foods. The most recent Canada's Food Guide encourages Canadians to consume more plant-based proteins, rather than those that are animal-based.
If going full-out vegetarian is not in your future, introducing a few vegetarian meals into your week can have benefits too. Try a grilled vegetable sandwich on whole grain bread for lunch or vegetarian chilli with a salad for dinner.
There are many different options for healthy meal planning with diabetes. A vegetarian diet is just one healthy option available, especially when combined with regular exercise.