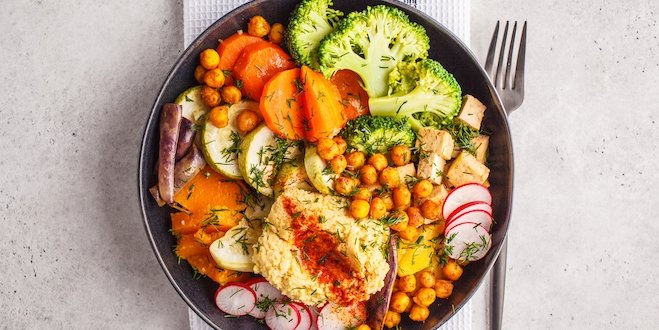 We are hearing more and more about the need to eat less meat and more plant-based foods. Not only is this better for the environment and the sustainability of future food sources, it's better for our health too!
What about vegan diets and diabetes? When it comes to diabetes in particular, numerous studies are showing that a vegetarian or vegan diet can have multiple health benefits. In fact, based on all of the health gains achieved by going vegan, you could say a vegan diet and diabetes go hand in hand. Here's a look at why a vegan diet could be a good option if you have diabetes.
What does following a vegan diet mean?
Someone who follows a totally vegetarian diet is essentially consuming a vegan diet. Vegans do not eat any meat, poultry, fish or animal products, including eggs, milk and butter—and that includes foods that contain these products too. Some vegans also refrain from wearing items made from animal products, such as suede or leather.
What are the benefits of a vegan diet for people with diabetes?
Healthcare professionals have long touted the benefit of eating more fruits and vegetables when you have diabetes.
But several studies comparing mostly plant-based/vegan diets to omnivorous (or meat-filled) ones also reveal that eliminating meat products may be the best route to go, to better manage your diabetes. Plant-based diets have been shown to reduce diabetes-associated risks and improve quality of life too. Here are some of the benefits of adhering to a mostly plant-based or vegan diet:
Weight loss: People on plant-based diets typically consume fewer calories and less saturated fat. They also have lower body mass index (BMI) than non-vegetarians. Research has shown that those who followed a vegan diet lost nearly twice as much weight compared to those on diets incorporating meat products. Learn more on how to maintain a healthy weight when you have diabetes here.
Improved cholesterol levels: Low-fat, plant-based diets can significantly lower your total cholesterol levels by as much as 20% compared to other diets.
Reduced A1C: Eliminating meat in your diet can significantly reduce your hemoglobin A1C. The research shows a 0.5 point reduction for people on vegan diets compared to 0.2 for those following conventional diets.
Reduced cardiovascular risk: The prevalence of hypertension is significantly lower in those adhering to a plant-based diet compared to meat eaters. Plant proteins also lower blood pressure more than meat proteins do.
Improved mood and overall wellbeing: Eliminating meat has been linked to lower rates of depression and improved mood overall. Eating more plant-based foods may also improve your quality of sleep since the highest sources of magnesium (a common natural sleep aid) comes from plant-based foods such as spinach and pumpkin seeds.
Less neuropathy: Vegan diets have been associated with a reduction in diabetic neuropathy and in some cases have eliminated the issue entirely.
Can a vegan diet help prevent diabetes?
Yes, the research shows that eating a plant-based diet can reduce your risk of type 2 diabetes. In one study, the more animal products people ate, the higher their prevalence of diabetes (7.8% in heavy meat eaters compared to 2.9% in vegans). Another study found that those who adhered to a strictly vegetarian diet had a 35% lower risk of developing diabetes.
But remember that too many processed foods, even on a vegan diet, will be detrimental to your health. Fill your plate with plenty of whole grains, fruits, vegetables, legumes, nuts and seeds and you'll be on the right track to help slow down your risk of developing diabetes.
Does a vegan diet provide all of the nutrients needed for healthy eating?
If you choose to eliminate meat and animal products from your diet entirely, keep an eye on getting enough daily nutrients. For best results, and to avoid risk of vitamin and mineral deficiency, look to add vitamin B12, zinc, iron, vitamin D and calcium to your vegan diet. Vitamin B12 and vitamin D can be found in fortified foods such as plant-based milks, cereals, and nutritional yeast. Meanwhile, protein, zinc, and iron are found in legumes, soy products, nuts and seeds. To help fill any nutritional gaps and provide key nutrients that you may be missing, consider adding some healthy snacks such as nuts, seeds, vegan yogurt, soy/nut milk and fruits. A multivitamin that contains vitamin B12, zinc, iron, vitamin D and calcium, may also be beneficial. Talk to your healthcare provider to glean further information on possible supplements and foods that are beneficial for people following a vegan diet.
You can find more information on other healthy diet options, such as paleo and low-carb, as well as the benefits of a mediterranean diet.
It is always best to speak with your doctor, dietitian or another member of the diabetes healthcare team about the best diet option for you.