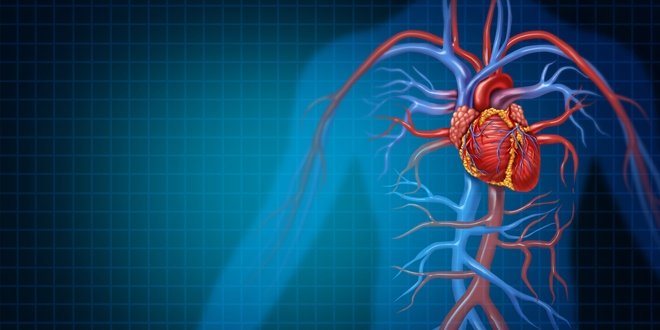 You may have heard that there is a connection between diabetes and cardiovascular (heart) disease. This expert blog describes the various types of heart disease, why there is a connection with diabetes and what you can do to reduce your risk of developing heart disease. This information is about cardiovascular disease and type 2 diabetes, but there is also a link between type 1 diabetes and heart disease.
Some studies have shown that achieving blood glucose levels close to target greatly reduces the potential for mortality from cardiovascular disease. This benefit continues even many years after the glucose control occurs, compared to people with type 1 diabetes who have prolonged higher glucose levels. This suggests that high glucose levels alone may be a risk factor for developing heart disease for people with type 1 diabetes.
In type 2 diabetes, glucose control is only one of the many risk factors that need to be controlled.
What is cardiovascular disease?
Diabetes complications in general affect blood vessels (arteries) in the body. Some complications could affect the larger arteries causing heart attack, stroke or poor circulation leading to amputation; other complications could affect the small blood vessels in the eyes and kidneys.
With cardiovascular disease, plaque (fatty cholesterol-containing growths), narrow the opening of the blood vessels, restricting blood flow and therefore oxygen to the heart. This is called atherosclerotic heart disease. And this is what can cause a heart attack.
Recently, we have come to recognize another cardiovascular disease, called heart failure, which particularly affects people with diabetes, and may be due to damaged blood vessels. Although it can sometimes be caused by a narrowing of the blood vessels, heart failure may also be due to an inability of the heart muscle cells to contract properly and therefore limit the ability to pump blood around the body effectively.
Why do people with diabetes get heart disease?
The first type of heart disease, with blood vessels narrowed by fatty cholesterol deposits, is caused by the very delicate lining of the blood vessels being interrupted by trauma. This then provides a chance for the cholesterol to be 'laid down'. A number of risk factors can cause this trauma, some of which you can change, and some of which you cannot.
The second type of heart disease, heart failure, is also caused mostly by the risk factors of high blood pressure and high blood sugars, as well as other factors in diabetes that are not well understood.
Risks that you can't control
Age: The older people get, the more likely it is that cholesterol will deposit.
Gender: Men have a higher risk.
Family history: If people in your family have had a heart attack at a younger age (usually less than 60 years), you may be at higher risk.
Ethnicity: Some ethnic groups have a higher risk (e.g. South Asian).
Obesity: We know that extra fat cells can produce components in the blood that increase the body's likelihood of laying down cholesterol. Obesity is included under both changeable and not-changeable risk factors, because some types of obesity are inherited. For example, the distribution of fat around the belly is more likely to produce compounds that cause cholesterol deposits, compared to fat around the hips, which is inherited. However, no matter what type of obesity a person has, weight loss can help to reduce risk levels.
Risks that you can change
Smoking: Smoke (in any form) disrupts the delicate lining of blood vessels and accelerates any of the other risk factors.
High blood pressure: This is inherited but may be controlled with medication.
Sedentary lifestyle: Exercise is known to prevent the laying down of cholesterol.
Diet: Eating certain diets seems to be linked to less cholesterol depositing in the blood vessels – for example, the Mediterranean diet, which is full of fresh fruit, vegetables, fish and olive oil.
Glucose control: Having an A1C close to target, especially if it doesn't cause a low blood sugar level, has been shown to prevent heart attacks in type 2 diabetes.
So why do people with diabetes have a higher risk of heart disease? Presently, we can't fully answer this question, but it is likely that some of the inheritance for diabetes also codes for the other risk factors, such as family history of heart disease, high blood pressure and obesity. However, the good news is that by controlling as many of the risk factors that have been discussed above, you can greatly reduce the risk. A recent study in Sweden showed that the risk of heart disease for someone who has diabetes is almost the same as someone who doesn't have diabetes, if all the risk factors are well controlled.
How do you know if you are at increased risk for cardiovascular disease and what can you do about it?
People with diabetes are generally said to have a 2- to 4-times greater risk of having cardiovascular disease than people without diabetes. But as mentioned above, you can greatly reduce that risk by controlling the changeable risk factors mentioned.
To know if you require medication to control some of these risks, your healthcare team may look at some risk calculators. You can also look at your own risk and what medications may be of benefit.
Specific calculators have been developed for cholesterol-lowering medications. The medications called statins are sometimes recommended, even if cholesterol falls within the range of normal for people who don't have diabetes. There is also a calculator for blood pressure medication. Again, these may be recommended, even if blood pressure is normal, to protect against heart disease. Other medications such as acetylsalicylic acid (ASA) or other blood thinners may be recommended. Finally, some medications that are used to lower blood sugars (SGLT2 inhibitors and GLP-1 receptor agonists) may also reduce the risk of heart disease and may be recommended. Read more about medications here.
In terms of other risk reductions, think of the ABCDESs!
This article was sponsored by Novo Nordisk Canada Inc.