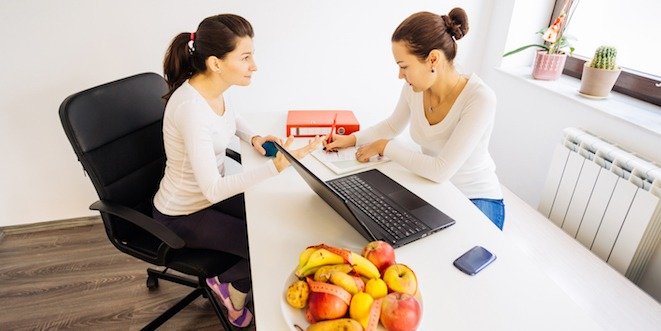 It is natural to have questions about what food to eat when you are first diagnosed with diabetes because an essential part of managing diabetes is food. Food can help you manage your blood sugar levels, but it also can cause them to rise out of control depending on what you choose. Regardless of the type of diabetes you have or what medications you take, eating right is key in the management of diabetes and reducing the risk of heart attack and stroke. According to the latest guidelines released by Diabetes Canada, people with diabetes should receive nutrition counselling by a registered dietitian because studies have found that counselling and frequent follow up provided by a dietitian with expertise in diabetes management has demonstrated benefits for those with diabetes.
What does a dietitian do?
As one of the most important members of your diabetes health-care team, dietitians work collaboratively with the other members of your team including doctors, nurses, and pharmacists. Dietitians look beyond fads and gimmicks to deliver reliable advice. They translate the science of nutrition into terms you can understand and provide you with a tailored meal plan to help you achieve your blood glucose and weight management goals.
There are a variety of dietary patterns and specific foods that have been shown to be of benefit in people with diabetes; a dietitian can help you choose the dietary pattern that best aligns with your culture, values, and preferences, helping you to stick to the plan over the long term.
How can a dietitian help in terms of diabetes management?
Here are some ways a dietitian can assist you:
 A dietitian will work with you to build a meal plan that considers your lifestyle, what you like to eat and how active you are. Follow up with a dietitian is important to tweak the meal plan based on your results and how it is working out for you. Learn more here.
For some people with diabetes, losing weight will help with their diabetes control. A dietitian will calculate how much you need to eat to help you balance your calories with your level of activity so that you will be able to lose weight in a healthy way. Learn more here.
Eating the right type and amount of carbohydrates will help keep your blood sugar in line. A dietitian will teach you how to read package labels and show you how to identify healthy choices and to count the grams of carbohydrate in each portion. Learn more here.
A dietitian may suggest that you keep a food diary to learn how what you eat affects your blood sugar levels. Together with the dietitian you can identify and choose foods geared toward avoiding big swings in your blood sugar levels.
Dietitians have both the scientific knowledge and the counselling skills necessary to provide helpful food and nutrition advice. Dietitian is a protected title across Canada, Nutritionist is a protected title only in Alberta, Quebec and Nova Scotia. In other provinces, the title Nutritionist doesn't automatically mean that they meet and maintain provincial registration requirements. To be sure you are accessing the most qualified nutrition professional, look for the initials RD or PDt (DtP in French) or ask them if they are a dietitian. Speak to your doctor about a referral to a dietitian or visit www.dietitians.ca/find to locate a dietitian near you.