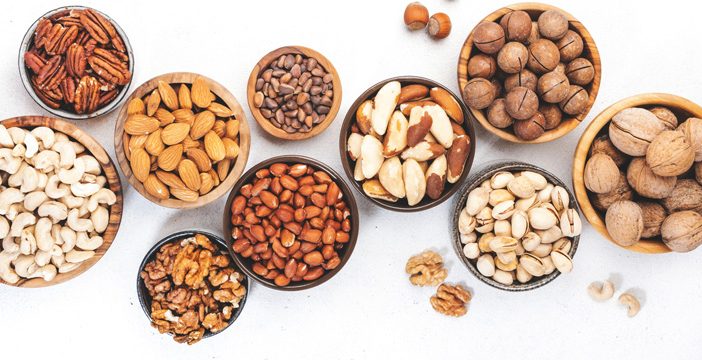 When thinking about diabetes management and healthy eating, carbohydrates get all the attention. Fat, however, is also important for people with diabetes. Fat has developed a negative reputation for being harmful, and has been blamed for obesity and heart disease. We know today that not all fats are bad and that fat is important for our overall health. While it is true that some types of fat should be limited or avoided altogether, other fats should be included more often in our diet and can make us healthier.
In order to understand how fat fits into a healthy eating plan, it is important to understand the different types of fat and their effects on our body.
What role do fats play in the body?
Fats provide the body with energy, help it to absorb certain vitamins and are needed to perform other important functions, such as producing hormones that protect your organs and help keep your body warm.
How much fat does a person need each day?
Each gram of fat contains nine calories; the current Diabetes Canada guidelines recommend that 20% to 35% of calories consumed each day should come from total fat. For an average adult, that means about 65 grams of fat per day from a variety of food sources.
What are the different types of fat? 
Not all dietary fats are the same. Unsaturated fats are known as 'good' or healthy fats. They help lower your low-density lipoprotein (LDL) cholesterol (the 'bad' cholesterol) that can increase your risk of heart disease. There are two types of unsaturated fats: monounsaturated and polyunsaturated.
Monounsaturated fat
Monounsaturated fat is a healthy fat that has a protective effect on the heart. Sources of monounsaturated fat include:
Nuts such as almonds, cashews, pecans and peanuts
Olive oil and olives
Peanut butter and peanut oil
Safflower oil
To include more monounsaturated fats in your diet, try:
Substituting olive or canola oil for butter, margarine or shortening when cooking
Sprinkling nuts on a salad, yogurt or cereal
Adding avocado to salads or sandwiches
Polyunsaturated fat 
Polyunsaturated fats are another important fat to include as part of a healthy balanced diet. Omega-3 and omega-6 fatty acids are two types of polyunsaturated fat that can improve heart health.
Omega-3 fats are found in oily fish, such as:
Salmon
Mackerel
Trout
Herring
Sardines
Eating at least 2 servings of oily fish per week is associated with a lower risk for heart disease.
Other foods with omega-3 fats include:
Walnuts
Flaxseeds and flaxseed oil
Chia seeds
Omega-3 eggs
Fruit juices and dairy products with added omega-3
Omega-6 fats are found in the following types of oil:
They are also found in nuts and seeds, such as:
Almonds
Pecans
Brazil nuts
Sunflower seeds
Sesame seeds
Saturated fat
These fats tend to be solid at room temperature and can form plaques that attach to your arteries.
Products containing saturated fat include:
Lard
High-fat meats such as regular ground beef, hot dogs, sausages and bacon
High-fat dairy products, such as cheese, cream, ice cream, whole milk and 2% milk
Butter
Poultry skin (for example, chicken or turkey)
Palm oil
Coconut and coconut oil
Trans fats
Trans fats are known to raise levels of LDL cholesterol and lower levels of high-density lipoprotein (HDL) cholesterol (the 'good' cholesterol). Trans fats are produced when liquid oil is made into a solid fat (a process called hydrogenation) and they are more harmful than saturated fat. For a heart-healthy diet, eat as little trans fat as possible by avoiding foods that contain it.
Sources of trans fat include:
Highly processed snack foods such as crackers and chips
Baked goods (muffins, cookies and cakes) made with hydrogenated oil or partially hydrogenated oil
Hard margarines
Shortening
Some fast food items, such as french fries
Which fats are good?
Unsaturated fats are 'good' fats (monounsaturated and polyunsaturated). Eating 'good' fats in place of 'bad' fats (saturated) can help protect you against heart disease by lowering your cholesterol levels. Keep in mind that eating too much of any kind of fat is not a good idea as even 'good' fats are high in calories.
Which fats are NOT as good?
Saturated fat and trans fat increase your body's production of cholesterol. These 'bad' fats also cause clogging of your blood vessels; this is a condition called atherosclerosis. If there is a blockage in the blood flow to your heart, this can lead to a heart attack. If the blood vessels in your brain are blocked, this can lead to a stroke. To reduce your risk of heart attack or stroke, saturated fats should be limited and trans fats should be avoided.
How can you make better choices at the grocery store?
Compare the % daily value of fat between similar products; those with less than 5% daily value are a lower-fat choice
Look for products with no trans fat
Choose oily fish, such as salmon, mackerel, sardines and trout
Choose lower-fat milk products more often
Look for lower-fat cheeses
Choose leaner cuts of meat
Fat is an important part of our diet, but it's important to remember that not all fats are created equal. Choose foods with unsaturated fats more often and limit the amount of foods with saturated and trans fats.