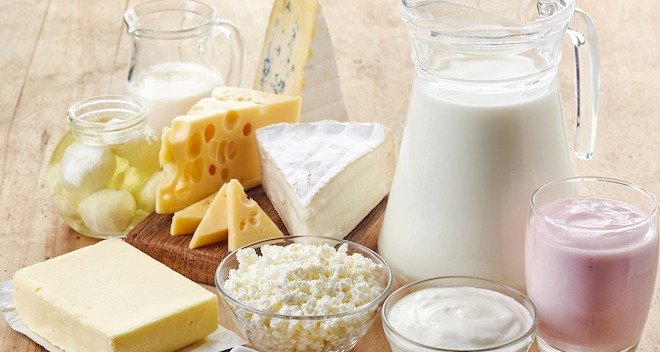 Ever wondered if there is a connection between diabetes and dairy products? If you're a fan of milk, cheese or other dairy products, remember that they do have an impact on diabetes. That doesn't mean you have to remove dairy from your diet per say, but there are some key things to consider.
Let's talk about milk:
Navigating the milk aisle may be overwhelming due to the sheer number of different milk products available. The best way to compare how products differ is to read the nutrition label, noting the carbohydrates and sugars, saturated fats, and calories in each.
3 things to consider when choosing milk products
1. Carbohydrates and sugars:
Most dairy products are high in hidden carbohydrates. In fact, most brands of regular cow's milk contain about 12 grams of carbohydrates in a one-cup serving (regardless of whether it is whole milk, 1%, or fat-free). Chocolate milk, with its added sugars, is even higher carbohydrates. Because your body breaks down carbs into sugar, consuming too many carbs will wreak havoc on your blood sugar levels.
Therefore, if you count carbs or have a daily meal plan, it is important to include milk in your carbohydrate count. If you are looking for a lower carbohydrate option, you may want to opt for a milk alternative such as almond milk, which has around 1.5 grams of carbohydrates per 1 cup. Helpful tip: whenever possible, choose a milk alternative that is fortified with calcium and vitamin D, and without added sugars.
2. Saturated fats:
While milk products contain similar amounts of carbohydrates, they differ drastically in terms of fat content. One cup of whole milk contains around 8 grams of fat, whereas skim milk contains less 1 gram. Full-fat dairy products are also high in saturated fat and cholesterol, which can worsen insulin resistance. Diets high in saturated fats also increase your risk of heart disease and other serious health problems. Therefore, it is best to opt for lower-fat options such as 1%, skim milk, or a low-fat milk alternative.
3. Calories:
Your daily calorie intake is an important consideration if you have diabetes, especially if you are trying to lose weight. Full-fat milk is much higher in calories than skim milk (150 calories compared to 91 calories per 1 cup). If you want an even lower calorie option, unsweetened almond milk has around 39 calories per cup. Another tip is to watch serving sizes – Diabetes Canada suggests drinking up to 1 cup (250mL) of low-fat milk or alternative with a meal. 
Dairy and Diabetes Q&A:
What types of yogurt are best for people with diabetes?
Yogurt is a great dairy product for people with diabetes, because it is generally low on the glycemic index, is a source of probiotics which keeps our digestive system healthy, and can be a good source of protein. Greek yogurt is your best bet if you are looking for yogurt that is higher in protein, which will keep you feeling full for longer. It is also important to choose a plain/unflavoured yogurt, because flavoured yogurts are high in added sugars that will cause your blood sugar to spike.
What types of cheeses are best for people with diabetes?
Cheese can be a great low-carb snack for people with diabetes. However, cheese is a high-calorie and high-fat food, so it is important to choose your cheeses wisely. It is best to opt for reduced-fat or fat-free cheese to reduce your calorie intake and fat consumption. Regardless of which cheese you choose; portion control should be exercised as cheese should really only be consumed in moderation.
If I limit dairy will I become calcium deficient?
You can look beyond the dairy aisle to get your calcium intake. Some good examples of non-dairy sources of calcium include fortified soy milk, collards and baked beans. There are also supplements you can take to ensure you're getting enough calcium. Just be sure to consult with your healthcare provider beforehand.
Besides dairy, how else can I get probiotics in my diet?
Probiotics have the benefit of helping move food through our digestive track and even improve our immune system. Yogurt and fermented milk drinks like kefir are good sources of probiotics but they're not the only game in town. Sauerkraut, tempeh, kimchi and pickles are just a few examples of non-dairy probiotic foods that are good for your health too. Find more on the benefits of probiotics.
Being mindful of the kinds of milk-based products you choose—and the quantity you consume—means you can still enjoy your favourite dairy foods without negatively impacting your diabetes in the process.