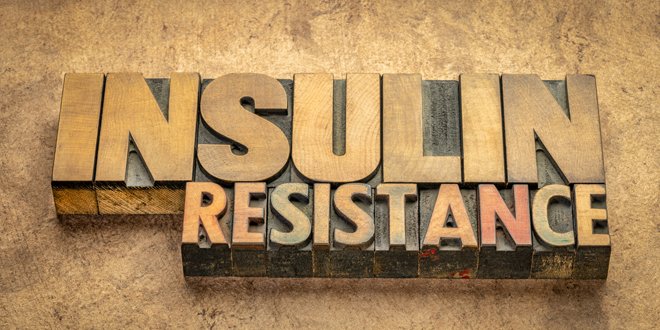 Normally, the insulin in your body allows your cells to convert blood sugar into energy. But when you have insulin resistance, your cells aren't responding properly, which causes blood sugar levels to rise. Here's a look at the signs and symptoms of insulin resistance to watch for, as well as the ways you can help prevent it from becoming a concern in your life.
What causes insulin resistance?
Researchers are still trying to determine exactly what causes insulin resistance in the first place. What we do know for sure, is that insulin resistance initially causes the pancreas to secrete more insulin to keep blood sugar levels in check. But eventually the pancreas can no longer keep up with the excess insulin production and the blood sugar rises. The consistently higher blood sugar levels eventually progress to become what is known as 'prediabetes'.
Does insulin resistance cause diabetes?
Yes, as mentioned above, the consistently higher blood sugar levels caused by insulin resistance can lead to prediabetes. Prediabetes is a condition where blood glucose levels are higher than normal but haven't reached the level required for a diagnosis of type 2 diabetes. Left untreated, prediabetes will progress into type 2 diabetes.
Learn more about prediabetes here. 
What are the signs of insulin resistance?
Since you won't be able to feel insulin resistance until diabetes occurs, you'll likely need to do some blood tests to figure out if you have this issue. Contributing factors to insulin resistance to keep an eye on include:
Blood pressure readings of 130/80 and higher
A fasting glucose level of more than 5.5 mmol/L
When your waistline is more than 40 inches (for males) and 35 inches (for women)
Skin tags and patches of dark, velvety skin
Other risk factors for insulin resistance and prediabetes include age, being overweight, a sedentary lifestyle, smoking, sleep issues and a family history of diabetes. Find more on how to lower your risk of prediabetes here.
How is insulin resistance diagnosed?
A healthcare provider will check for insulin resistance by doing one or more blood tests, including an A1C test, fasting blood-sugar test and random blood sugar test. Here's more information on these types of blood sugar tests and what they mean.
What are the long-term complications?
When insulin resistance is left unmanaged, it can lead to a host of health complications, such as metabolic syndrome. This is a cluster of conditions including high blood sugar, high blood pressure, high cholesterol and excess abdominal fat. If you have metabolic syndrome, you're also a lot more likely to develop type 2 diabetes, which is linked to further complications. Find more on metabolic syndrome and diabetes here.
Can you prevent or reverse insulin resistance?
Fortunately, there are plenty of things you can do to help reverse insulin resistance or prevent it from happening in the first place.
Make exercise a priority in your life. Do at least 30 minutes of moderate-to-vigorous activity (e.g, brisk walking), five days a week.
Maintain a healthy weight
Eat a healthy diet that includes plenty of vegetables, proteins and whole grains
If needed, take prescribed medications to keep your blood sugar in check
Insulin resistance is a serious condition and left untreated it can lead to a host of other issues, including type 2 diabetes. That's why it's important to know your risk factors and see a healthcare provider if you have any concerns so you can get a proper diagnosis.
The good news is, with the help of a good diet and healthy lifestyle, you can get a handle on insulin resistance before it can do any long-term damage.