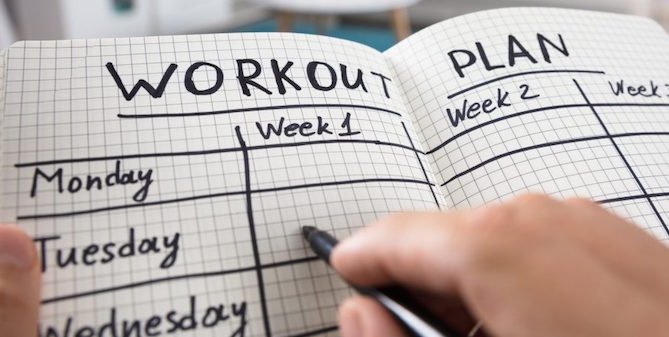 Attention all couch potatoes. Would knowing that you could prevent, or significantly delay diabetes with regular exercise prompt you to get moving? The research shows that a diabetes prevention exercise program can do just that. And getting one started isn't as onerous as you might think.
Set a target for your diabetes prevention exercise program:
Whether you're weeding your garden, cleaning your house or biking around the neighborhood, moving is good for you and causes your body to burn calories. Physical activity in turn improves your fitness levels, and keeps your blood sugar levels and blood pressure in check.
Regular exercise can also relieve stress, improve blood circulation and keep your body and joints more flexible, which is particularly important as we age.
If exercise has been off your radar for a while, don't fret. Start slow by finding ways to incorporate more physical activity into your everyday life. That could mean using the stairs at work or taking a walk after dinner. Start with five to 10 minutes of exercise a day and increase gradually to reach at least 30 minutes daily, five days a week for optimal results. Then add two to three days of resistance training to your exercise program, to build muscle too. Eventually you can increase your exercise time and intensity by adding more vigorous activities.
Alternate your exercises:
Both aerobic and resistance exercises are key for improving your fitness level and keeping diabetes and diabetes-related complications at bay.
Aerobic exercise includes actives such as brisk walking, jogging or biking, which are activities that raise your heart rate. Try for 150 minutes of aerobic exercise a week, but remember that multiple, shorter exercise sessions of 10+ minutes can be just as impactful as longer ones.
Interval aerobic training consists of short stints of aerobic exercise alternated with short recovery periods of low intensity or rest. This type of training builds stamina, which will help with other cardio activities such as hiking and biking.
Resistance training involves using weights, weight machines, resistance bands or your own body weight to build muscle and strength. Doing resistance exercises two to three times a week can promote leaner muscles and aid in weight control. With more muscle you also burn more calories, even when you're resting.
If you're just starting resistance training, be sure to consult a qualified exercise professional or watch a training video to learn how to do these exercises properly.
Find more information on why resistance training is important when you have diabetes.
Tips for a successful exercise program:
Once you've started exercising regularly, here are tips to ensure you'll stick to your diabetes prevention exercise program for the long haul:
Check with your doctor/healthcare provider for advice on what kind of exercises are optimal for you
Make a plan to exercise at least five times a week and stick to it. Schedule exercise time in your calendar so you're not tempted to skip it.
Remember to start slow, especially if you've been inactive for a while, so you don't injure yourself
Find activities you love so you'll be more inspired to do them
Figure out what's keeping you from exercising and find strategies to help. For example, if you find exercise boring or lonely, find a friend who can work out with you, or join a fitness class where you'll meet like-minded people.
Don't let bad weather deter you from moving. There are plenty of things you can do to stay active even when the weather is less than stellar.
Find more tips on how to get an exercise program started here.
Remember that exercising for your health doesn't require hours at the gym or expensive equipment. Once you develop a diabetes prevention exercise program and make a commitment to stick to regular exercise, you'll inevitably feel better—and improve your overall health too.