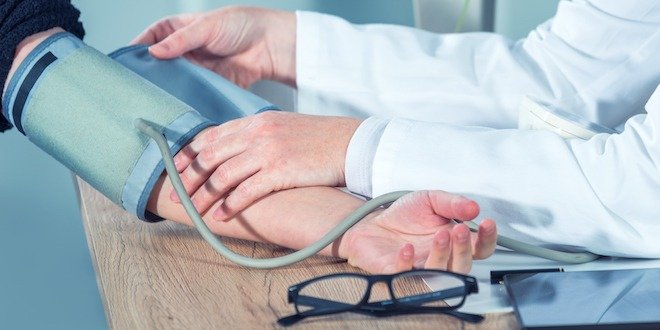 High blood pressure – also called hypertension – increases the risk of heart disease and stroke, and can also lead to eye and kidney disease. People with diabetes are already at higher risk of all these complications, so it's important to understand high blood pressure and how to prevent or control it.
What is high blood pressure?
Everyone has blood pressure. Blood pressure is the force of blood on the blood vessels as it circulates.  This force helps the blood move through the body, doing its job of distributing oxygen and nutrients.
High blood pressure – or hypertension – occurs when the force becomes too great. High blood pressure can damage your arteries and puts stress on many important parts of the body, especially the heart and brain.
There are often no symptoms, even when blood pressure is very high. This is why it's so important to have your blood pressure tested regularly to check for issues. Many pharmacies also have blood pressure kiosks where you can check your own blood pressure. 
How is blood pressure measured?
Your heart pumps blood around your body by beating and relaxing between beats. When your blood pressure is measured, the pressure is recorded during both these functions. This is why it is described using two numbers. For example, 130 over 80 mm Hg.  This is often written as 130/80.
The first or top number is the pressure when your heart beats and pumps blood out (systolic). The second or bottom number records the pressure when your heart relaxes in between beats (diastolic). Both these numbers are important.
Get information about how to measure your own blood pressure in our article Self-monitoring your blood pressure.  And be sure to record your blood pressure readings over time so you can track your progress.
What should your blood pressure be?
The recommended target for people with diabetes is less than 130/80 mm Hg.
If your blood pressure is consistently higher than this, you will probably need to take one or more medications to lower your blood pressure and maintain it at a healthy level. Healthy eating and regular physical activity can also make a big difference in helping to control blood pressure.
Some people find their blood pressure shoots up when they visit their doctor, due to anxiety. This is known as 'white coat hypertension'. You can find out more information about this condition and get more valuable insights about high blood pressure in our expert physician's blog Why the hype about diabetes and hypertension?
Eating tips to lower high blood pressure
Cut back on salt
Cutting back on sodium is one of the most important things you can do to control high blood pressure. People with diabetes should aim to consume no more than 1,500 to 2,300 mg of sodium per day.
This is not a great deal of sodium when you consider that one teaspoon of salt has 2,300 mg, which is the maximum recommended amount of sodium for an entire day.
Meeting the recommendations usually means doing a lot more than just putting aside the salt shaker. Much of the salt we consume comes from processed foods like canned soups, pickles, cold cuts, frozen pizzas, salty crackers and chips, and bottled salad dressings. Many fast food restaurant items are also very high in sodium.
Talk to the dietitian on your health care team to get detailed recommendations for cutting back on sodium. Your dietitian can also help you learn how to check the sodium content of foods by reading food labels.
You may also want to read our expert dietitian's blog on this site Shake the salt habit and lower blood pressure.
Follow D.A.S.H. eating recommendations
D.A.S.H. stands for Dietary Approaches to Stop Hypertension. The DASH diet eating plan has been proven to lower blood pressure in numerous clinical studies. It is rich in vegetables, fruits, whole grains, and low-fat milk products, with restricted intake of saturated and trans fats, and sodium.
Learn more about the D.A.S.H. diet here.
Medications to lower high blood pressure
There is a wide range of medications for high blood pressure. Each type works in a different way. Many people need to take two or more types of medication, and make lifestyle changes, to totally control their condition.
These are the main types of medication used to treat high blood pressure:
ACE inhibitors: Angiotensin Converting Enzyme (ACE) inhibitors. These help to control hormones that affect blood pressure.
ARBs: Angiotensin Receptor Blockers. These also help to control hormones.
Diuretics: these remove unwanted fluids from the body.
Calcium channel blockers: these help to relax and widen the artery walls.
Beta blockers: these help to control a hormone that affects blood pressure. They also help to open up the blood vessels.
It's important to be aware that many medications can take up to six weeks to work properly. Meanwhile, keep taking your medications regularly as prescribed until your next visit with your health care professional.
Many medications or medication combinations can cause side-effects in some people. If this occurs, call your health care professional for advice.  Continue to take the medication/s until you are advised otherwise.
Your doctor may end up trying a variety of different drug combinations before finding the right mix for your individual condition.
If you have questions about the medications you have been prescribed, talk to your pharmacist.
You will also find more detailed information in our expert pharmacist's blog Medications for high blood pressure.