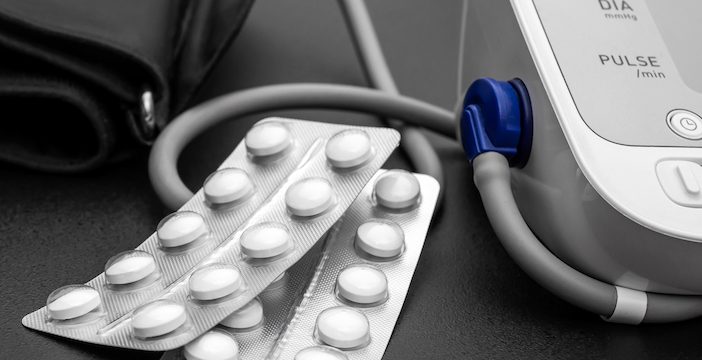 As many as 2 in 3 people with diabetes report that they also have hypertension (high blood pressure). Unfortunately, the two combined can increase the risk of heart disease and stroke. Therefore, it is important to know how to prevent or treat high blood pressure if you have diabetes.
The good news is that hypertension can be prevented and controlled with medications, if needed, and healthy lifestyle strategies. The first step is to understand your blood pressure. This article reviews strategies that can be used to manage high blood pressure, including commonly prescribed blood pressure medications, for people with diabetes.
What are the recommended blood pressure targets for people with diabetes?
Two numbers are used to measure blood pressure. The top number is systolic pressure. This refers to the pressure inside the artery when the heart contracts and is pumping blood through the body. The bottom number is diastolic pressure. This refers to the pressure inside the artery when the heart is at rest and is filling with blood. Both systolic and diastolic pressures are measured in "mmHg" (millimeters of mercury).
Diabetes Canada and Hypertension Canada both recommend a blood pressure of less than 130/80 mmHg for people with diabetes. If you have diabetes and a blood pressure above 120/80 mmHg, it is never too early to make lifestyle changes to lower it. If you have diabetes and a blood pressure of 130/80 mmHg or higher, you will probably need to take blood pressure medications, in addition to making lifestyle changes, to bring it down to a healthy level.
Hypertension is often called "the silent killer" as it has no warning signs or symptoms and can only be diagnosed through blood pressure measurement. It can affect anyone and is more common as we get older. This is why it's so important to have your blood pressure checked regularly. Many pharmacies have blood pressure stations where you can check your blood pressure. You can also purchase a blood pressure monitor to use at home.
What medications are used to treat hypertension?
If lifestyle changes alone cannot bring your blood pressure down to safe levels, you may need to start taking one or more medications. Here are a few commonly prescribed high blood pressure medications for people with diabetes.
Angiotensin-converting enzyme (ACE) inhibitors
The most commonly used medications to lower blood pressure in people with diabetes are ACE inhibitors. (Their names usually end in 'pril' and examples include ramipril and enalapril.) ACE inhibitors help the body produce less angiotensin, which helps the blood vessels relax and open up; this in turn lowers blood pressure. These medications work in the kidney to lower blood pressure. But they can also slow down kidney damage that high blood sugar can cause. If you're taking an ACE inhibitor, your healthcare team will run blood tests to monitor the health of your kidneys.
Some possible side effects include:
Skin rash
Loss of taste
Chronic dry, hacking cough
If you're taking an ACE inhibitor and think you might be pregnant, contact your healthcare team immediately. These drugs are dangerous to both mother and baby during pregnancy.
Angiotensin II receptor blockers (ARBs) 
Another common class of medication used to reduce blood pressure is ARBs. (Their names usually end in 'sartan' and examples include candesartan and valsartan.) This class of drugs block the effects of angiotensin, a chemical that causes the arteries to become narrow, meaning the blood vessels stay open and blood pressure is reduced.
Some possible side effects include:
Dizziness
ARBs should not be used during pregnancy. Medications that act directly on the renin-angiotensin system can cause injury or even death to a developing fetus. When pregnancy is detected, consult your healthcare team as soon as possible.
Calcium channel blockers (CCBs)
Calcium channel blockers also work well to lower blood pressure in people with diabetes. Examples include amlodipine, diltiazem, felodipine, nifedipine and verapamil. These medications prevent calcium from entering the cells of the heart and blood vessels. This relaxes the muscles in the heart and blood vessels, and lowers blood pressure. If someone is already on an ACE inhibitor but needs additional blood pressure lowering medication, a CCB is the preferred add-on therapy. People usually tolerate CCBs without issue; however, in rare cases, they can cause swelling of the feet and lower legs. If this happens, be sure to consult your healthcare team.
Some possible side effects include:
Heart palpitations
Swollen ankles
Constipation
Headache
Dizziness
Diuretics
Diuretics help the body get rid of excess sodium (salt) and water, while also widening the blood vessels. Together, these effects help control blood pressure. They are often used in combination with other prescription therapies. A commonly used medication in this class is hydrochlorothiazide.
Some possible side effects include:
Dizziness
Low potassium levels
Headaches
Dehydration
Muscle cramps
Joint disorders (such as gout)
Impotence
Beta blockers 
Beta blockers cause your heart to beat more slowly and with less force, which lowers blood pressure. Beta blockers also help open up your veins and arteries to improve blood flow. (Their names usually end in 'olol' and examples include metoprolol and atenolol.)
Some possible side effects include:
Dizziness
Constipation
Sleep disturbances
Trouble breathing, particularly if you have asthma
How effective are blood pressure medications?
Multiple drugs are often required, in combination with lifestyle changes, to reach blood pressure target levels, especially in people with type 2 diabetes. Many classes of blood pressure drugs work best when taken together and some are combined into a single tablet. It is more advantageous to add two or more blood pressure medications rather than increase one medication to its maximum dose. This offers better blood pressure lowering with less chance of side effects. Your healthcare team may try different medications to find the combination that is best for you. Keeping a blood pressure log helps in making those decisions.
Are there non-medication strategies to help manage hypertension?
Healthy behaviours and taking medication as directed go hand-in-hand to control blood pressure and reduce health risks. It is important to note that medication never replaces healthy behaviours.
Some techniques to prevent or treat high blood pressure include:
Eating healthier
Follow the Dietary Approaches to Stop Hypertension (DASH) diet and learn about the impact of sodium (salt) on blood pressure. Here are some key tips:
You can do this by:
Eating homemade foods prepared with fresh, minimally processed ingredients.
Reading nutrition labels: a Daily Value of 5% or less of sodium per serving is the best choice; foods with 15% or more should be avoided.
When eating away from home, ask for salt to be reduced in your meal and replaced with other seasonings.
Always ask for gravy, sauce, cheese and salad dressing to be served on the side and use these menu items sparingly.
Being more physically active
The Diabetes Canada clinical practice guidelines recommend that people with diabetes get 150 minutes of moderate-to-vigorous-intensity aerobic exercise each week (such as walking, cycling, swimming) four to seven days per week. Resistance exercises (such as lifting weights) should be done two to three times per week, in addition to routine activities of daily living.
You can do this by:
Avoiding prolonged sitting. Try to interrupt sitting time by getting up briefly every 20 to 30 minutes. If you work at a desk, try these workday exercises.
Using a step counter, which can be helpful for tracking and setting goals.
Taking the stairs instead of the elevator, whenever possible.
Consuming alcohol in moderation
According to Diabetes Canada's 2018 clinical practice guidelines, moderate alcohol consumption is equal to one to two standard drinks per day. For people with diabetes, alcohol consumption should be limited to less than 10 drinks per week for women and less than 15 drinks per week for men. A standard drink is equal to 12 ounces of beer, 5 ounces of wine or 1-½ ounces of liquor.
Reducing your body weight
A healthy body mass index and waist circumference (<102 cm for men and <88 cm for women) are recommended.
You can do this by:
Striving for and maintaining a weight loss of 5% or more of total body weight.
Stopping smoking
You can do this by:
Talking to your health care provider about ways to quit smoking.
Avoiding places or social situations where other people are smoking.
Managing your stress levels
Find techniques to help decrease stress and improve your coping skills.
You can do this by:
Performing breathing exercises, meditation and yoga.
Thinking about what soothes you (for example, reading or listening to music) and incorporating that into your daily routines.
If you have diabetes, it is important to have your blood pressure checked regularly. It should be checked once a year by a healthcare professional (or more frequently if your blood pressure is high), and more often at home or at a pharmacy. If home blood pressure readings are done properly, they may reflect your usual blood pressure more accurately than those done at your doctor's office. Check out some tips for choosing a monitor and doing an accurate reading.
Remember, you must continue to take your medications as prescribed, even if your blood pressure returns to normal. While the medication has controlled your blood pressure, your hypertension has not been cured. Finally, adopt and maintain all lifestyle changes and keep at them. They are just as important as medications for controlling your blood pressure.