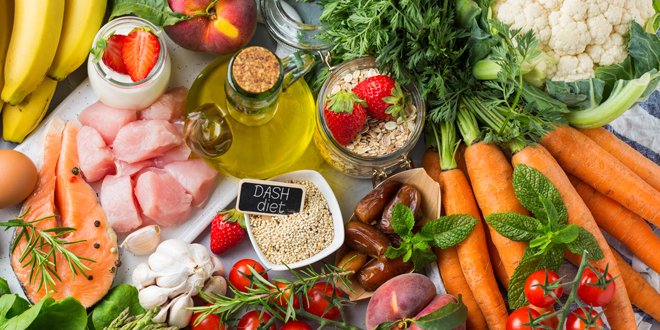 For people living with diabetes, there is no single diet that is perfect for everyone. Diabetes Canada and registered dietitians promote the use of a variety of eating patterns to help with the management of diabetes. One of the eating patterns promoted is the DASH diet, which stands for Dietary Approaches to Stop Hypertension.
The DASH diet was originally developed to control blood pressure. In research studies, people who were on the DASH diet lowered their blood pressure within 2 weeks; further studies have proven that the DASH diet is also effective for lowering blood sugar in people with diabetes. In fact, this nutritious and balanced eating plan has been shown to improve a number of other health issues, including high cholesterol and overweight/obesity. It can also reduce the risk of heart disease in people with type 2 diabetes.
DASH emphasizes eating whole grains, fruits, vegetables, fish, poultry, beans, seeds and nuts. The diet is low in saturated fats, fatty red meats, full-fat dairy products, cholesterol and tropical oils. It is also low in sodium, sugars and sweets.
DASH includes larger amounts of potassium, calcium, magnesium, fibre and protein than a typical Canadian diet would have. Another great advantage of the DASH diet is that it is easy to stick to and can be followed long term, which is a key reason why nutrition experts rank it as one of the best overall diets, tied with the Mediterranean diet.
How to get started with DASH
DASH is practical; it does not require special foods or supplements, and it is appropriate for the entire family. Starting DASH doesn't mean making drastic changes overnight. Instead, begin by making whatever changes seem most manageable to you. Even small, gradual changes have significant benefits. The DASH diet calls for a certain number of servings daily from various food groups but doing the DASH doesn't need to be complicated. It can be as simple as following these steps to begin a healthy lifestyle for a lifetime:
Use less salt when cooking
Instead of salt, add flavour with aromatic vegetables such as onions, peppers and garlic, as well as lemon zest, herbs and spices.
Snack foods typically have high levels of sodium, so try these snack ideas instead: unsalted nuts; low-fat yogurt; popcorn with no salt or butter added; and fruits and raw vegetables.
Plan your plate
Fill half of your plate with vegetables and fruit; focus on having more vegetables than fruit. If your healthcare team has told you to limit potassium, then speak to a dietitian about which fruits and vegetables are okay to have or that you need to limit. Fill the other half of your plate with healthy proteins and whole grains.
Choose healthy proteins
Include at least one vegetarian (meatless) meal each week, and gradually aim to have two meatless meals per week. Meatless meals emphasize plant-based protein sources, including legumes and tofu, and meat substitutes such as soy-based veggie burgers.
Choose lean cuts of meat and remove skin from poultry. Plan to have fish instead of meat or poultry once or twice each week.
Switch to healthier grains
Choose whole grain foods for most of your grain servings, including:
Whole grain bread instead of white bread
Whole-grain cereals and oatmeal for breakfast
Recipes that include brown rice, bulgur, barley and quinoa
Choose low-fat dairy products
Low-fat dairy products include 1% or skim (nonfat) milk, and low-fat versions of yogurt and cheese. A simple way to start is if you are currently eating or drinking high-fat dairy products, try the next step down. For example, if you drink whole milk, try 2% milk. If you drink 2% milk, try 1% milk.
If your healthcare team has told you to limit potassium and phosphorus in your diet, then dairy products will need to be limited.
Where to get more support
Dietitians are skilled at helping you find an eating pattern that takes into account blood sugar and other health issues, lifestyle factors, cultural factors and personal preference. Talk to your dietitian about the DASH diet or ask to be referred to your local dietitian or diabetes education centre.
Try some our recipes that make it easy to do the DASH!