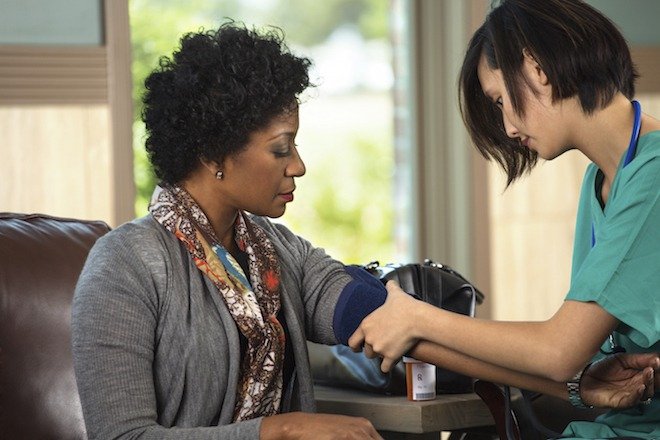 Hypertension or high blood pressure…what is it?  And why is it important to recognize and treat hypertension in people with diabetes?
The genes that cause type 2 diabetes often travel with the genes that also cause high blood pressure and high cholesterol.  So it is common for type 2 diabetes and hypertension to frequently occur together.  The most common complication of diabetes is heart disease and all three of these (diabetes, high blood pressure and high cholesterol) are risk factors. This means it is extra important to control high blood pressure in people with diabetes to reduce the risk of heart disease.
Blood pressure is the force or pressure that blood creates when it pushes on the walls of the blood vessels or arteries.  When the heart contracts, it creates a higher pressure or the "top" reading (systolic).  The pressure when the heart is resting between beats and is re-filling is the "bottom" (diastolic) or lower pressure.
If the arteries have hardened or are clogged from atherosclerosis or cholesterol deposits, the heart has to generate higher pressures to pump the blood.  This is hypertension.
Generally, blood pressure should be 130/80 or less in someone with diabetes. This will help prevent heart disease and will also reduce the risk of stroke, eye disease and kidney disease.
What is the best way to measure blood pressure?  The best way to help the doctor treat hypertension is to measure blood pressure at home and bring in the readings (just like bringing in blood glucose readings!)  Home blood pressure cuffs are not too expensive and may save people from being over or under treated with their blood pressure medications.  Buy one that has a "Hypertension Canada" logo.  Take the blood pressure at different times of the day.  Sit comfortably for at least 5 minutes with feet on the floor (not crossed), back supported and arm supported at heart level (on a table).  Don't talk or watch TV while taking the readings and do a couple of readings 2 minutes apart and write them down.  Avoid smoking or drinking coffee for 30 minutes before.  If you can't do home readings, all the above is still important for the doctor or healthcare provider to do before taking the blood pressure.
Some people have a condition known as 'white coat hypertension', or 'white coat syndrome'. This means their blood pressure rises when they are in the presence of medical professionals. Sometimes if the health care providers wonder if it is "white coat" hypertension, they will use a BpTRU cuff that will take 4-5 readings by itself while they are not in the room or will arrange a "24-hour" monitor that can be worn at home for a day.
Blood pressure should be checked at each diabetes visit – so four times a year.  If hypertension is diagnosed, it is important to take the medications that are prescribed.  If side effects make an individual reluctant to take a medication, it is important to let their care provider know so a different one can be used.
Other steps that can be taken to help reduce blood pressure include quitting smoking, getting 30-60 minutes of exercise each day, maintaining ideal weight targets, reducing salt intake and limiting alcohol to less than 2 drinks per day.
Excellent resources and more information can be found on the Hypertension Canada website.