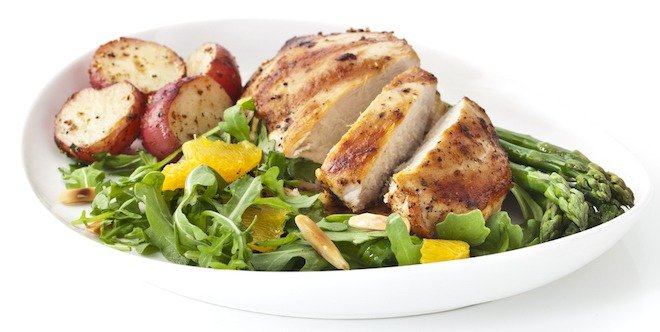 What is a portion?
The amount of food we eat is influenced by the portion amounts on food packages, meal portions at restaurants, and cultural and family customs, more so than by our hunger cues. This in turn sometimes causes us to eat more than we need to, even if we're no longer hungry.
Portion sizes have grown larger over time: what was once considered a meal-size portion is now considered a snack-size portion. It's no wonder that we're confused when it comes to understanding how much we should eat!
Whether you have type 1 or type 2 diabetes, or if you are trying to lose weight, how much you eat at every meal and snack is important.
Why is portion control important?
Portion control helps you to eat according to what your body actually needs, instead of relying on external cues such as portion sizes.
Blood sugar control is closely related to the amount of food you eat, especially foods that contain carbohydrate as they have the biggest effect on your blood sugar. If your food portion contains more carbohydrate than your body is prepared to handle, your blood sugar goes up. Also, the extra calories will affect your weight, which will also affect your blood sugar by reducing your body's resistance to insulin.
What is a correct portion size?
Each person's needs are different. The number of portions you need is based on your weight, gender and activity level. Your dietitian can advise you on the number of portions you should have at each meal and snack.
The table below lists portion sizes of common foods, according to Diabetes Canada.
Type of food
1 portion equals …
Grains and starches
1/3 cup cooked rice

1 slice (1 ounce) whole grain bread

½ cup cooked pasta

½ medium potato

Fruit

1 medium size apple

1 cup strawberries

1 small banana

2 tablespoons dried fruit

Low-fat milk and alternatives
1 cup 1% or skim milk

¾ cup yogurt, plain or unsweetened

Protein or lean meats
1 ounce of fish, poultry, lean meat or cheese

1 large egg

2 tablespoons peanut butter

½ cup chick peas or black beans
A meal plan will tell you how many portions you should eat at each meal. The number of portions you eat is the serving size. For example, your dinner meal plan may suggest you eat 2 portions of starch, 1 portion of fruit, 1 portion of milk and 3 portions of meat.
This means you would choose the food you like from each food group, in the amount that matches the number of portions. The serving sizes would then be, for example: 1 cup cooked pasta, 1 medium apple, 1 cup skim milk, and 3 ounces chicken.
The most accurate way to tell if you are eating the right amount is to measure your foods using measuring cups, a kitchen scale and measuring spoons. When we rely on guessing the measurement, we are usually wrong! Pull out the scale and measuring tools at least once a week to check your portion sizes.
Do I have to measure and weigh everything I eat? Is there an easier way?
If weighing and measuring sounds like too much time and effort, consider using alternative methods. These methods may not be accurate enough if you are concerned about being precise, especially when counting carbohydrates. However, for the person with type 2 diabetes who is interested in reducing portions to lose weight, these methods can work very well.
1. The plate method
According to Diabetes Canada, your plate at each meal should be filled with larger portions of non-starchy vegetables and smaller portions of starchy foods and lean meats or protein. This method of portioning is referred to as "the plate method:"
Choose a plate that is about 9 inches in diameter. The larger the plate, the larger the portion will be.
Draw an imaginary line down the center of your plate.
Then on one half of your plate, divide it again so your plate is split into 3 sections.
One-half of your plate should be filled with non-starchy vegetables (for example, green beans, carrots, broccoli or salad greens).
On the other half of the plate, fill one quarter with protein or lean meat (for example, chicken, fish or tofu) and fill the other quarter with a starchy food (for example, rice, pasta or potato).
2. The handy portion guide
Your hands can be very useful in estimating appropriate portions. When planning a meal, use the following serving sizes as a guide:
Your fist: choose an amount the size of your fist for your grains and starch serving.
Your palm: choose an amount up to the size of the palm of your hand and the thickness of your little finger for your meat & alternatives serving.
The tip of your thumb: limit fat (such as oil and margarine) to an amount the size of the tip of your thumb.
Two hands full: fill your plate with plenty of non-starchy vegetables.
Using either of the above methods can be very helpful in estimating correct portion sizes, especially when you're eating out.
How can I control my portions and still feel satisfied?
Many of us choose our food portions out of habit instead of paying attention to our hunger cues. It takes about 20 minutes before your brain registers that you are satisfied, so if you finish your meal quickly, you may have eaten more than you needed before your brain has had the time to figure it out. Chewing your food longer and putting your fork down in between mouthfuls will help you to eat more slowly.
You have probably heard the saying "eating with your eyes." Using smaller plates and bowls will help make your portion sizes look bigger, so you'll think you ate more than you actually did. Another trick is to pile your plate with plenty of vegetables, leaving less space for high-carbohydrate or higher-calorie foods.
Changing old habits is never easy. Awareness of how much you eat is the first step toward making a change. Record the amount of food you eat every day to keep track of portions, calories, and carbohydrates at each meal and snack. Keeping a food diary can be very effective in changing eating habits and helping people lose weight. It can also help you stabilize your blood sugars.