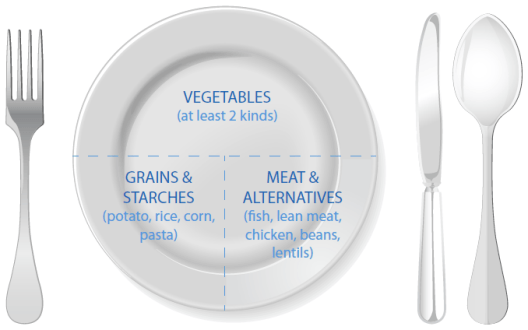 What is the plate method?
The plate method is a simple way to plan your diabetes-friendly meals. It uses a technique where a plate is divided into sections so that you learn quantities of the various food groups to include in your meal plan.
What are the advantages of the plate method?
The plate method can help people with weight management by controlling portion size, and it can also help with managing carbohydrate intake.
How do you use the plate method?
Using your regular dinner plate, put a line down the middle of the plate. Then on one side, cut it again, so you will have three sections on your plate. See the image above as an example.
Fill the largest section (1/2 of the plate) with non-starchy vegetables. Non-starchy vegetables include most vegetables except potatoes, peas, corn and winter squash. This article has many examples of great vegetables to include on your plate.
Next, fill one of the small sections (¼ of your plate) with grains and/or starchy foods, including: whole grain cereals and breads, rice and pasta, and starchy vegetables. These articles will help you navigate the grocery store for pasta and bread.
Fill the remaining ¼ of the plate with foods from the meat and/or meat alternatives category. These include: poultry with skin removed, lean beef and pork cuts, fish and seafood, and eggs, low-fat cheese and/or tofu. Read more about diabetes and eggs here. This article will help you navigate the grocery store for poultry.
Finally, round out the meal with a low-fat milk serving such as a glass of low-fat milk or a light yoghurt, plus a fruit serving.
For more help with the plate method, your dietitian can help you plan specific plate details.
To get more ideas on how you can plan tasty and nutritious meals read Joanne Lewis' series of blogs here.