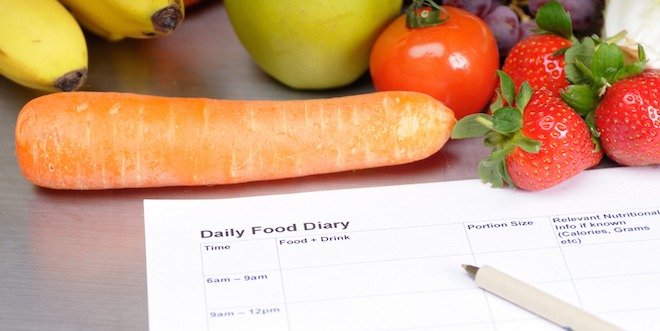 A new year often brings new resolutions. For many, a New Year resolution is to lose weight. For some, this resolution is made annually, with little success. How can this year be different? Several studies have shown that people who keep food journals are more likely to be successful in losing weight and keeping it off. In fact, some research found that people keeping a food diary six days a week lose about twice as much weight as those who keep food journals one day a week or less. Keeping a food journal may be a key to losing weight.
How can writing down what you eat and drink in a food journal make a difference?
1. Awareness
Keeping a food journal increases your awareness of when, what, how much, and why you are eating. So many of us are guilty of mindless eating and unless we write it down, it may not even register that we actually ate certain foods. For some people, the act of recording every bite can discourage overeating. People may reconsider eating something because they don't want to write it down.
2. Identify and change habits
Food journals can help people identify areas where they may make changes that will help them lose weight. They can unveil habits of overeating and reveal triggers to avoid, such as not eating enough during the day and then eating too much at night or "social overeating" when in the company of others.
Here are some tips on how keeping a food journal can lead to successful weight loss:
Decide what to record
Consider recording time, type of food, and amount eaten. Another thing that may be helpful is to include the location of the meal. This information will provide insight into habits and triggers for healthy and "less than healthy" eating. For the person with diabetes, it may also be helpful to write down the amount and type of exercise during that day, any medication taken, and blood sugar results.
Make journaling a habit
It may be best to record food intake as you go throughout the day. Or at least, set some time aside at the end of the day. The journal will be more accurate if food intake is recorded right after eating. Always carry your food journal with you or use a tracking application on your computer or other electronic device.
Look for habits and triggers to change
Food journals alone can help with weight loss, but they can be even more useful when you go back and review what was written. A dietitian can also review them with you to identify patterns and make suggestions.
The purpose of a food diary is not to be perfect. Slip-ups will happen and the main point is to stay motivated to use this tool to promote improved health and gradual weight loss. Remember, when setting a goal to lose weight even small amounts of weight loss can result in big improvements in blood sugar, blood pressure and cholesterol levels. Successful weight loss means you can still enjoy food you love in moderation. Following extreme weight loss plans or eliminating complete food groups from your diet can work against weight loss goals – leading you back to where you started year after year.