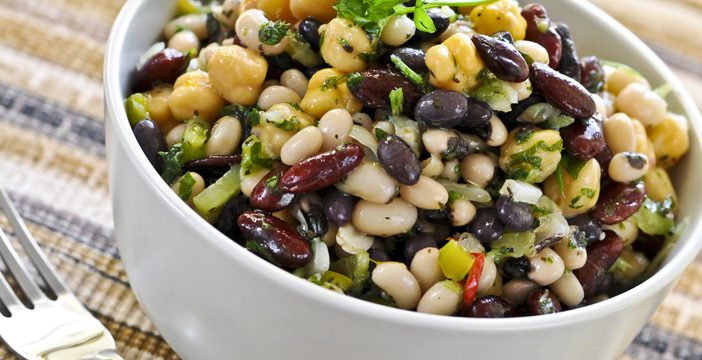 Beans are a great choice for people with diabetes. They are full of fibre, low in calories, inexpensive and have many health benefits. Read on to learn about the many types of beans, health benefits and how best to use beans for diabetes meal planning.
Types of beans
There are a variety of nutritious and tasty beans available to incorporate into your diabetes diet, including:
Black beans
Black-eyed peas
Chickpeas
Great Northern beans
Kidney beans
Lima beans
Navy beans
Pinto beans
What are the health benefits of beans?
Beans are incredibly nutritious because they're very high in fibre In fact, they contain both soluble and insoluble fibres: soluble fibre helps lower cholesterol levels, while insoluble fibre helps with digestion and maintaining regular bowel movements. Fibre-rich foods, such as beans, are more filling than other foods, so they help reduce your hunger between meals.
Beans are also high in complex carbohydrates, and they have a low glycemic index. Most of the carbohydrates in beans are fibre and starch that prevent blood sugar levels from rising quickly after a meal or snack.
A number of studies have shown that eating beans significantly reduces low-density lipoprotein cholesterol (the "bad" cholesterol) and helps lower your risk of having a heart attack or a stroke.
Beans are also an excellent source of folic acid, which lowers homocysteine (a type of protein) levels and reduces your risk of heart disease. High levels of homocysteine damage the lining of arteries and cause plaque buildup and blood clots. Over time, the damage caused by plaques can slow or block blood flow to the heart or brain, causing a heart attack or a stroke.
Beans are also good sources of protein, calcium, potassium, magnesium, phosphorus and zinc. All of these nutritional benefits make them an important part of any healthy diet, whether or not you have diabetes.
Are some beans better than others for a diabetes diet? Is fresh better than canned?
Kidney beans, pinto beans, black beans and chickpeas are all great for blood glucose control, as they are very high in fibre and take a long time to digest.
On the whole, dried beans are a better choice than canned, as they are less expensive and contain less sodium. However, many varieties of canned beans are now available with "no sodium" or "low sodium". If you do buy canned beans that contain sodium, be sure to rinse them first – that will lower the salt content.
How to best use beans for diabetes meal planning
Beans offer a lot of options. They make a tasty side dish, or you can add them to salads, soups, casseroles, and chili. They're also a great stand-in for meat in a main dish because they're high in protein but low in fat. A standard portion size for beans is 1/3 cup to 1/2 cup, cooked.
Canada's Food Guide recommends eating beans regularly as an alternative to meat. There are many easy ways to incorporate them into your daily diet:
Add them to soups, stews, casseroles and chili. When you're preparing a stew or chili, cut half the meat from the recipe and replace it with beans. You can do the same thing with tacos.
Snacks such as hummus (made with chickpeas) and whole-grain crackers pack a big punch by combining beans and cereal grains to increase your fibre and protein intake.
Spread sandwiches with hummus, instead of butter or mayonnaise.
Sprinkle beans on salads, for a quick protein and fibre pick-me-up.
Toss beans and a variety of vegetables with a low-fat vinaigrette dressing to make a tasty cold salad. Add fresh herbs – such as parsley or dill – for a flavour boost.
Enjoy a bowl of black bean or lentil soup instead of the usual chicken noodle soup.
Check out these tasty bean recipes:
Beans are a great addition to your regular nutrition plan. They are versatile and can be enjoyed as an entrée or as part of a side dish. They are also very healthy for people with diabetes, as they can help keep your blood sugar stable and reduce your risk of heart disease. And they won't break the budget!