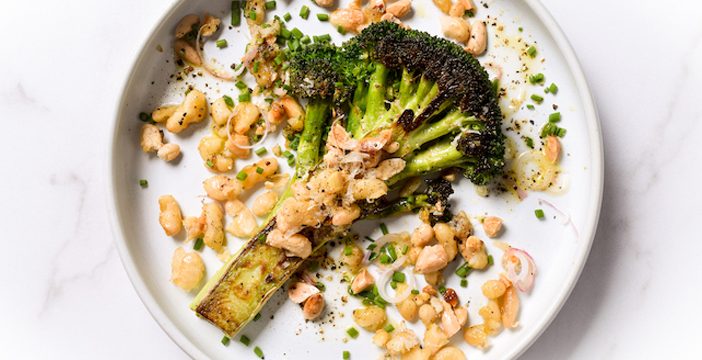 This broccoli dish is perfect as a side dish or as a vegetarian main course. The addition of white beans adds both protein and fibre.
INGREDIENTS
For the Broccoli
1 head of broccoli
Oil spray
2 tsp sunflower, canola, avocado or grapeseed oil (or replace with additional oil spray)
¼ tsp salt
For the White Beans
1 19-oz can white beans, drained and rinsed
1 tsp sunflower, canola, avocado or grapeseed oil
For the Dressing
1½ tbsp white wine vinegar
1 tbsp minced chives or scallions
1 shallot, minced
1½ tsp honey
2 tbsp pine nuts (or any chopped nut), optional
2 tbsp extra virgin olive oil
¼ tsp salt
Plenty of medium-grind black pepper
INSTRUCTIONS
Preheat the oven to 400°F.
Using a vegetable peeler, remove the outer tough layer of the broccoli stems. Cut the smaller broccoli "trees" lengthwise through the stems so that you have a nice flat side of the broccoli piece.  For the bigger "trees," cut lengthwise into 2-3 pieces.  Make sure each piece has a nice flat surface.
Line a cookie sheet with parchment paper or foil and generously spray the surface. Lay the flat side of the broccoli pieces on the oiled cookie sheet surface.  Brush the broccoli with oil or generously spray.  Sprinkle with salt.  Roast for 15 minutes.
In a bowl, toss the white beans with oil.
Remove the cookie sheet from the oven and place the white beans all around the broccoli. Place the sheet back in the oven and continue roasting until the broccoli has browned and the white beans have crisped a little, about 20-25 minutes.
In the meantime, make the dressing: Mix all the ingredients together with a spoon or fork by hand.  The dressing will be chunky, almost like a salsa.
When the broccoli and white beans are cooked, remove from the oven, place on a platter or in a shallow bowl. Drizzle with the dressing and serve hot or warm.
Serves 4.