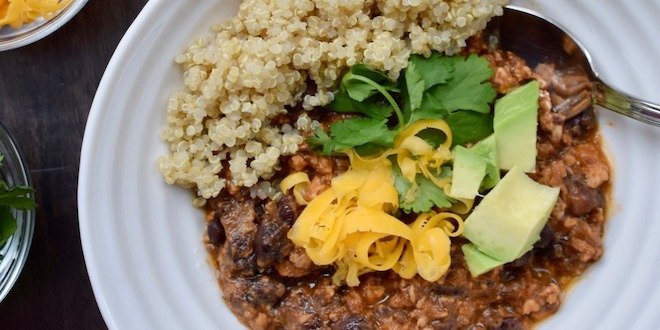 This chili is perfect for a fast weeknight meal. It comes together in under 30 minutes. It's full of protein and no added fat!
INGREDIENTS
1½ lbs ground chicken
3 (15-19 oz) cans black beans, drained and rinsed
1 14-oz can of tomatoes, chopped or ½ 28-oz can
1-2 small chipotle chilies from the can with the adobo sauce
½ red onion, finely chopped
1½ tbsp chili powder
2 tsp ground cumin
Garnish and to serve
• Tortilla chips
• Finley chopped red onion
• Cilantro
• Limes
• Ripe avocado, diced
• Freshly ground pepper
• Shredded cheese
DIRECTIONS
1. In a large heavy bottomed pot, brown chicken. Using a wooden spoon, break up the meat as you brown it. Brown until it is no longer pink – about 5 minutes.
2. In the meantime, in a blender or food processor, puree the tomatoes, chipotle chilies and half the black beans.
3. Once the chicken is cooked, remove from the pot to a bowl (leaving the oil behind).
4. Add the red onion to the pot and sauté until soft and translucent, about 5 minutes. Add the chili powder and cumin, toast for 30 seconds or so.
5. Add the contents of the blender, to the pot. Put 1 cup water in the dirty blender, swish it around and add that water to the pot. Add the remaining black beans and the cooked chicken to the pot as well.
6. Cook for about 15-25 minutes on low partially covered.
7. Serve with a squeeze of lime, minced red onion, avocado, cilantro and tortillas (and shredded cheese if you like). Note: these garnishes are not reflected in the nutritional information.
• If you want it a little heartier, serve over brown rice or quinoa. YUM!
• Freezes well
• If you want it a little thinner, add a little more water.
Serves 8 1-cup servings