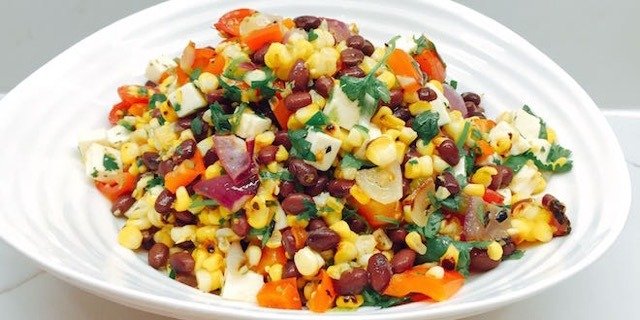 INGREDIENTS
3 ears of fresh corn (1½ cups niblets), husked and cleaned
1 19oz can black beans, drained and rinsed
½ red onion
2 green onions
1 red pepper
12 cherry tomatoes, quartered
½ cup cilantro leaves, chopped
½ jalapeno pepper, seeded and chopped very small
4 oz feta or queso fresco cheese, cut in small pieces or crumbled.
1 tsp dried oregano
½ tsp kosher salt
3 tbsp freshly squeezed lime juice
4 tbsp extra virgin olive oil
DIRECTIONS
Heat the grill to medium.
Cut the red onion in wedges so that some of the core is left intact.  This will hold the pieces together while you grill them so they don't fall apart.
Grill the onion until soft but not charred, flipping several times (about 10 minutes in total).
Lay the corn on the grill and grill the corn all over until soft but not charred (about 10 minutes in total, turning every few minutes).
Core the pepper and cut in several pieces, grill on both sides until soft but not charred, about 4 minutes a side.
Let the veggies cool.  Stand the corn up on one end and slice the niblets off the cob, and place in a large mixing bowl.
Cut the onions off the core and dice.  Cut the peppers into bite size pieces.  Add the onions and peppers to the bowl with the corn.  Remove ends from the green onions and dice the remainder.
Add the beans, green onion, tomatoes, cilantro, jalapeno, cheese, oregano and salt to the bowl, and mix everything together.
Drizzle mixture with lime and olive oil, and toss to mix.
Serve right away or let sit for several hours.
Serves 8